Eindhoven delight for Hopwood Hall
Date published: 18 April 2018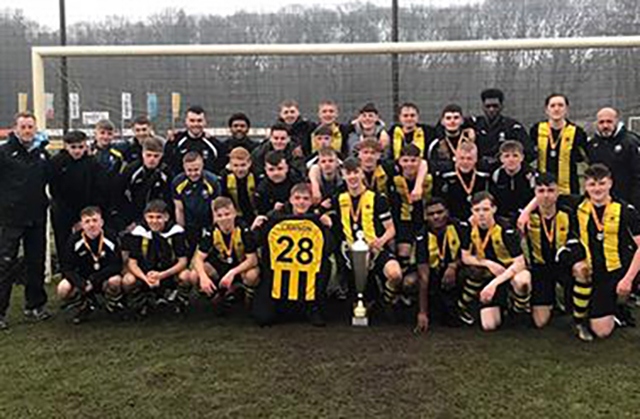 Hopwood Hall College's Football Academy team celebrate their cup win
Hopwood Hall College made sure a European trophy would be heading back to Greater Manchester this year, after they beat TSV Blaustein of Germany to win the Eindhoven Easter Open European tournament.
Football Academy students and staff dedicated their triumph to Paul Lawson, an academy student who sadly passed away in 2017, as well as the College's Vice Principal, Lesley Hawkins, who recently lost a battle with cancer.

The Dutch tournament involved college teams from countries across the globe, including Nigeria, Denmark, Germany and the Netherlands.
For some of the students, it was their first trip abroad.
For all of them, it was their first experience of playing competitive football in a different country.
This meant coping with styles of football that are uncommon on UK soil, such as the 4-3-3 formation used by the Dutch or 3-5-2 employed by the Germans, or the European referees' almost non-contact approach to the game.
Nevertheless, Hopwood Hall's first team started the group stage by beating W. Nederhorst of Holland 4-0 and Danish side Vemmelev Fodbold 2-1.

Then, in a cruel twist of fate, the team that stood between them and a final was none other than the Hopwood Hall's second team.
The game was not a gentle affair, both teams holding nothing back. Hopwood Hall seconds took an early lead but were eventually beaten 3-1 by the Hopwood Hall firsts.
Hopwood Hall's first team saved their best for last, playing some terrific football against TSV Blaustein in the final.
The Germans couldn't cope with the quick play and quality passing from the Black and Yellows, who romped to a 4-2 victory courtesy of an Adam Knott hat-trick and a superb strike from the prolific Jake Frost.
Hopwood Hall Academy Manager, Rob Johnson, described how important the European expedition was for his students.

"This cup has been such a rewarding experience for our lads," he said.
"Winning it is just a cherry on the cake.

"It wasn't just about football; sightseeing, eating and socialising together has brought us closer as a group and strengthened our bonds.
"Many of the students said it has been the best thing they have ever done, I can't describe how positive that makes us all feel as tutors.
"The cup was a success in every sense of the word and the boys have really done the Greater Manchester area proud."