School class won't feel crabby thanks to Gabriella's imagination
Date published: 26 April 2018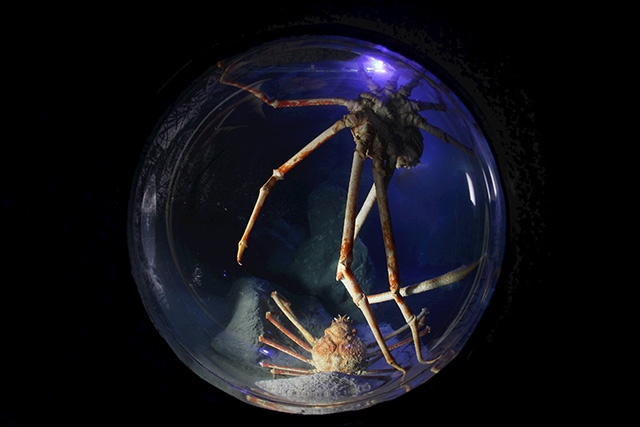 Sea Life Manchester's Giant Japanese Spider Crabs
Crabby new residents at Sea Life Manchester have been affectionately named Sir Pinch a Lot and Colin the Crab by local children.
After moving into their bespoke tank in the popular Barton Square attraction three weeks ago, the Giant Japanese Spider Crabs have really started to come out of their shells, inspiring a wave of suggestions as to what to name the humongous creatures.
Seven-year-old Gabriella Mesquita's imaginative suggestion of Sir Pinch a Lot was announced as one of the local public's favourite choices.
Gabriella, who attends Springhead Infant and Nursery School in Oldham, has won a trip to Sea Life Manchester for her entire class, so they can see the fascinating new creatures with their very own eyes.
While providing the very best care for the crabs, expert aquarists started to notice their differing personality traits bubble to the surface after just a few days.
Head Curator Alan Kwan said: "It's really amazing to be able to observe the behaviour of these magnificent creatures, especially to learn just how different their personalities are.
"Colin seems to be the more chilled of the pair, with a preference for squid, while Sir Pinch a Lot is certainly a little cheekier, a lot more lively, and has acquired a taste for herring."
The largest species of crab in the world, Colin the Crab and Sir Pinch a Lot have taken residence at Sea Life Manchester's brand new feature, Lair of the Giant Crab, amongst 100 snipefish and two smaller Japanese Spider Crabs in a colossal new tank housing 90,000 litres of water.
Neighbouring inhabitants in the other-worldly lair include 100 fluorescent moon jellyfish, housed in a brand new 360 degree crawl-through doughnut tank.
In a UK first for animal transportation, due to their colossal size, the spectacular new inhabitants were transported across the country in water, ensuring the very best creature care before settling into their permanent home here in Manchester.
Jenn McDonough, General Manager Manchester Cluster, Merlin Entertainments, said: "At 50 years old, Sir Pinch a Lot and Colin the Crab are our oldest sea creatures on-site, and could grow to up to 20 feet wide.
"We've designed a special tank here at Sea Life Manchester, a forever home, which will be big enough for their old age.
"The bespoke tank design replicates a deep sea Japanese cave where you'd normally find them in the wild.
"We think the public have chosen the new names perfectly and can't wait for our residents to show even more of their personalities."
'Lair of the Giant Crab' is included in the normal admissions price. Pre-booking is strongly advised to avoid disappointment.
For further news on the attractions or to book your tickets, please visit:
https://www.visitsealife.com/manchester and https://manchester.legolanddiscoverycentre.co.uk
Tickets start from £11.50.