Ton up for the Mayor courtesy of Knowsley's sporty starlets!
Date published: 01 May 2018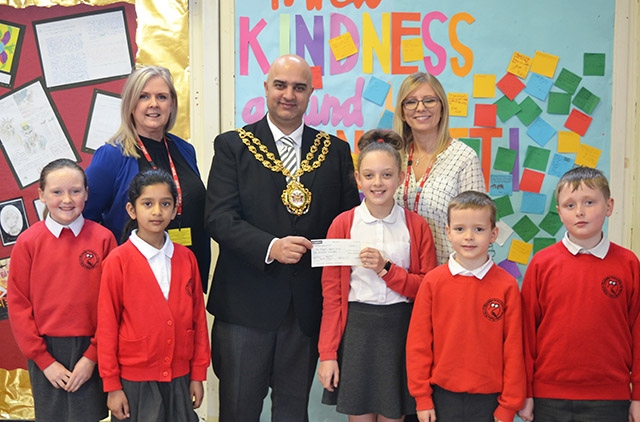 The Mayor of Oldham, Councillor Shadab Qumer, visited Knowsley Primary School to collect a cheque for £100 Children pictured are (left to right): Alicia Harrop, Sumayyah Alyas, Maisie Comer (Chair of the School Council - presenting the cheque), Joseph Baines and Finley Hampshire. The adults are (left to right): Miss Vanessa Payne (Headteacher) and Mrs Asia Anderson (Charities Co-ordinator and Year 4 teacher).
A total of £100 of the money raised during Sports Relief at the Knowsley Primary School in Springhead was donated to Councillor Shadab Qumer's Mayor's Appeal Fund.
The kind donation was split between three local charities - Maggie's Oldham, Action Oldham and the Ghazali Trust.
Children took part in a number of activities during the week, including wearing their chosen sports kit for PE lessons and wearing their party clothes for a Danceathon.