Spotting the early signs of skin cancer
Date published: 14 June 2018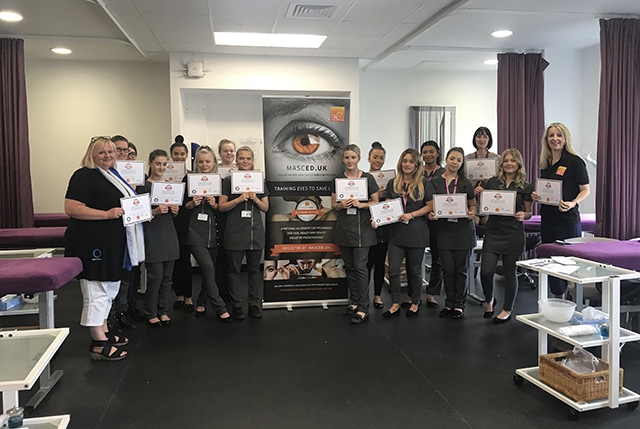 Oldham College Hair and Beauty students welcomed skin cancer awareness charity Skcin
Around 50 Oldham College Hair and Beauty students welcomed representatives from national skin cancer awareness charity Skcin, who launched MASCED in January, 2018.
MASCED is a free online accreditation programme aimed at hair, health and beauty industry professionals, and it has been an unprecedented success for the charity, who are renowned for their dedication to the prevention and early detection of skin cancer.
Over 6,000 people have signed up to receive this ground-breaking Melanoma and Skin Cancer early detection (MASCED) training since its launch and success stories of industry professionals spotting the first signs of skin cancer after taking part in the campaign give clear evidence of its importance, effectiveness and impact.
By working with colleges, who are training young adults to enter these industries, Skcin are able to embed valuable educational messaging to a younger and notoriously difficult-to-engage audience, arming them with the power and knowledge to make a positive impact, not just for their future clients, but their friends, families and crucially themselves.
The MASCED Accreditation programme not only teaches young adults to spot the early signs of skin cancer and melanoma, but also focuses on the risks of UVR and how to prevent the disease, to influence behaviours, for a positive, sun safe, skin cancer free future.
Look out for events near you or sign up for the MASCED independent online training for free at: www.masced.uk