Rose is making a real fashion statement!
Date published: 21 June 2018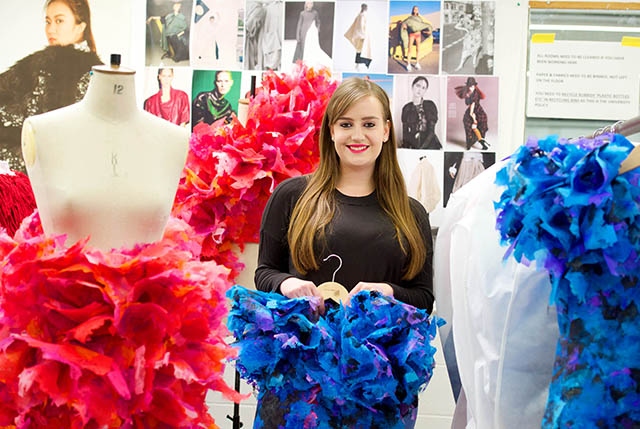 Oldhamer Rose Connor with her fashion collection
A humble bathroom item has taken on a new life in an eye-catching fashion collection, and it has caught the attention of major industry experts.
Oldham-based Rose Connor, a University of Central Lancashire (UCLan) student, has melted and pressed hundreds of multi-coloured bath scrunchies together to create six brightly coloured outfits.
Her designs were selected for the prestigious Talent of Tomorrow 2018 campaign for Graduate Fashion Week.
Rose, who previously studied at North Chadderton School, Oldham Sixth Form and the Oldham College, said: "I was shocked and surprised when I found out I'd been selected because there are so many fantastic students from across the country who have submitted their work.
"For the judges to have chosen mine is absolutely amazing."
The final year fashion design with sandwich student wanted to focus on upcycling for her year-long project.
The 22-year-old said: "I wanted to work with the things people think of as ugly or easily cast away so decided I would take everyday objects and see what could be done with them to create something special.
"I came to the bath scrunchie idea early on so spent a lot of time working with the material and trying to get the right patterns and colours together to make outfits which were visually very different."
Rose has created an assortment of dresses, skirts, jackets and tops using the plastic material, along with co-ordinating fabric trousers.
She said: "I am responsible for the lack of these scrunchies in Preston as I was constantly buying everyone I could find, I think people in the shops thought I was weird asking when their next delivery was due but now they can see what I was creating."
While on her University course, Rose undertook three placements with industry companies.
She worked at Preen, Cross Spot Studio and Cover Me and the experience was vital to her development.
She added: "That year in industry was such a steep learning curve.
"I worked at fashion businesses with different visions so it really tested to think outside of my usual design areas.
"It was a great time and helped me make contacts in the industry."
As well as having her work featured at the Graduate Fashion Week catwalk show, Rose's work went on display at the Lancashire Arts Festival, at the University's Preston Campus, last week.