A festival of beautiful Oldham music
Date published: 25 June 2018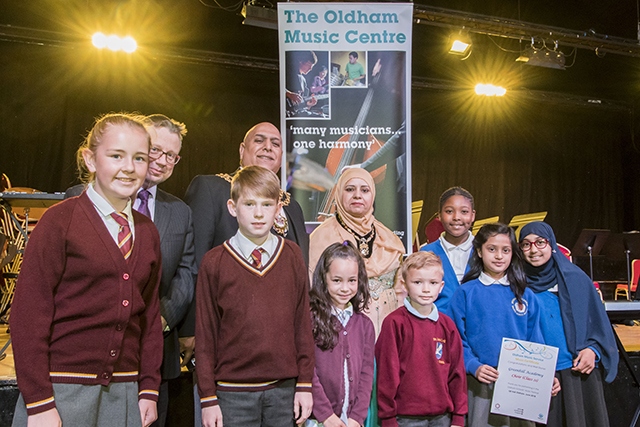 Pictured are Mayor of Oldham Javid Iqbal and Mayoress of Oldham Tasleem Akhtar with young musicians who performed at the festival
Musicians from all schools across Oldham took to the stage at the Queen Elizabeth Hall to celebrate the wealth of talent and opportunity in the borough.
More than 2,500 young musicians, from year two all the way to sixth form, took part in the Oldham Schools' Music Festival.
The annual event this year saw 103 different performances from choirs, bands, orchestras, rock groups, steel pans, musical theatre, guitars, ukuleles and more.
The festival received a visit from the Mayor of Oldham Javid Iqbal and Mayoress of Oldham Tasleem Akhtar.
The festival is non-competitive, but does have the input of an adjudicator whose job it is to offer advice and insight to all of the performers and help them to achieve even greater standards of excellence.
This year James Stretton, who last adjudicated at the festival two years ago and who has just returned from an examining tour of the USA, offered his insight and expertise to the young musicians.
Cllr Paul Jacques, Cabinet Member for Education and Culture, said: "This is a marvellous event every year and gives our talented local school children a platform to showcase their talent.
"In Oldham we're renowned for our local musicians and much of this is down to the huge amount of opportunity we have here.
"Oldham Music Service is committed to supporting and fulfilling the musical aspirations of all young people living in the borough."
Award winners:
Albert Mansel Harrison award for the outstanding Primary School Orchestra - Knowsley Primary School, Springhead
Outstanding contribution to the Festival by a primary school - Thornham St James' School, Royton
Outstanding contribution to the Festival by a secondary school - Crompton House School
The Marilynne Davies award for the most memorable performance, primary - Beal Vale, Shaw 'Troy Story'
The Marilynne Davies award for the most memorable performance, secondary - Failsworth Academy Choir
Choir - Newman RC College Senior Choir
Wind Band – Dobcross Primary School Dazzlers
Brass Band - Crompton House (special commendation to Beever Y3 brass)
Composition - Higher Failsworth Y4