MP's thought-provoking afternoon tea at Hathershaw!
Date published: 25 June 2018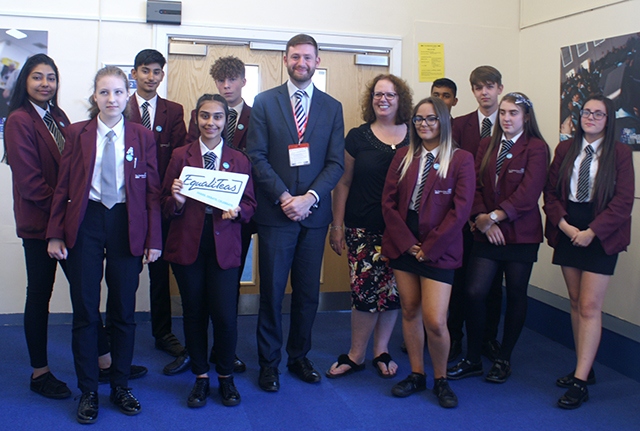 MP Jim McMahon with pupils at Hathershaw College
Anne Gilbert, British Values Co-ordinator at Hathershaw College, welcomed Oldham West and Royton MP Jim McMahon to the Bellfield Avenue site as he met up with Year 10 students for an afternoon tea and a discussion about the Equaliteas Project.
An informative get-together covered the Peterloo Massacre in Manchester and the advent of the Suffragette Movement and the strong links to Oldham, along with the continuing conversation about reducing the voting age to 16.
Mr Mahon, a big advocate of this, explained how he had joined a queue in the Houses of Parliament and then found himself introducing a Private Members Bill in the House to support the reduction of the voting age from 18.
He then invited the students to come up with one thing that they would each change about Oldham. Unsurprisingly several of the students brought up the issue of safety and the increase in violent crime, which is an issue across the whole of Greater Manchester.
Pride in the town is a message that Mr McMahon frequently champions, and it was interesting to see that the students agreed that pride and respect are two values that we all need to adopt to make the town a nicer place to live.
Mr Mahon said: "It was a real privilege to meet with Year 10 students from Hathershaw.
"The event was held as part of the Equaliteas project (https://equaliteas.org.uk/) to promote democracy in the 100th anniversary of the vote for women.
"We discussed the Votes at 16 Campaign and spoke about the importance of democracy and for politics to be able to address the real life issues facing people in our community.
" Debates in Parliament can often feel far removed from everyday life.
"Young people raised a number of really important issues including the increase in violent crime, access to jobs and the quality of environment.
"The debate was great and young people inspiring.
"Well done to the organisers at the school and thank you for the invite!"