Planning permission granted for autism school in Oldham
Date published: 05 March 2019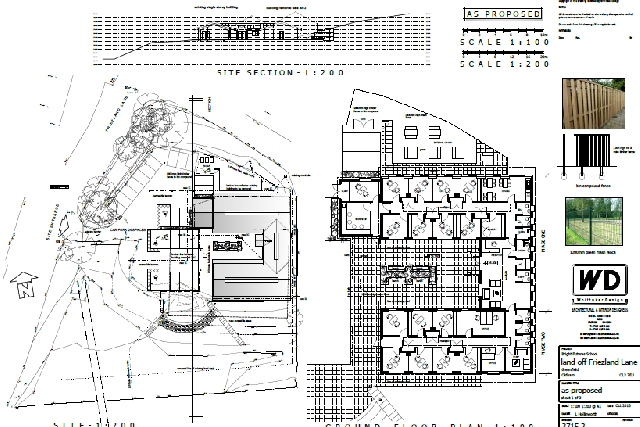 Oldham Autism School
Zoe Thompson co-founded the school in 2010 with her late husband Dixon Milburn when the local authority was unable to find a suitable educational placement for their son, Philip, who has autism. Sadly, Dixon passed away in August 2017 and it was shortly after Dixon's death that the school's former rented premises on Oldham Rd in Grasscroft were put up for sale. Zoe reflects on the challenges she faced with the threat of closure of the school coming hard on the heels of Dixon's death.
'It was a truly awful period in my life' she says, 'trying to deal with losing Dixon, supporting my two children through their bereavement and then coping with the uncertainty around the school's future. The offer of a purpose built school from Robert Scott and Sons was like a dream coming true. We found temporary premises in Greenacres which will house us until the new school is built. I am very lucky that I have been so well supported by a wonderful and very dedicated staff team. I am particularly grateful for the tenacity and determination of the school's Head of Learning, Alison Hughes, who was just not going to let me, or the school, go under.'
Speaking of Daniel Scott, who came up with the idea of using Scott & Sons' spare land at Friezland Lane to build the school, Zoe says, 'Daniel rang me straight after he'd heard the news that planning permission had been granted and whilst I managed to hold it together on the phone, I burst into tears straight afterwards. It's a whole mix of emotions – I still can't believe that Scott and Sons are doing this for us, it's such a magnificent gesture. I'm overjoyed that our 'forever home' has got the green light and then all of that is tinged with sadness and poignancy that Dixon isn't here to share it.'
At 19 years old, Philip has now 'graduated' from Bright Futures School. He didn't want to go to college but did want to continue his studies in maths, English and IT. During his time at Bright Futures School, Philip had taken part in a 'social communication' programme aimed at working on some of the difficulties that resulted from his autism and his ADOS score (which shows the severity of the autism) had reduced from 19 out of 22, to 12 out of 22.
Philip says that he recognised that after 'graduating' from Bright Futures he also needed to continue to work on some of his autism difficulties in order to get himself work-ready.
Despite Philip stating verbally and in writing that he would not go to college, the Local Authority continued to insist that Philip's educational needs could be met in a local college, so he and Zoe had to take Philip's case to Special Educational Needs Tribunal. In early February, Zoe and Philip heard that they had won their case and Philip now has in place a package of educational activities funded by an education 'personal budget' which Zoe manages. The package includes a continuation of the social communication programme, which has been deemed by the Tribunal to be a crucial part of his educational provision.
This is the first time in the UK that a social communication programme has been recognised by an SEN Tribunal as 'educational provision'.
Philip says, 'Going through the Tribunal process was extremely stressful. I hope I never have to do anything like that again and I resent the Local Authority for putting me through it. However, now that social communication provision to work on core autism difficulties is 'educational', it is something that other parents could get in their children's Education, Health and Care plans. That wasn't possible before my case went to Tribunal. I'm very glad to have been able to do something to help other people and that was a big factor in keeping me going through that very dark time. The social communication provision has made a huge difference to me and is something that I would recommend to anyone else with autism.'
There is more information about Bright Futures School for children with autism on the school website www.brightfuturesschool.co.uk
---
Do you have a story for us? Want to tell us about something going on in and around Oldham? Let us know by emailing news@oldham-chronicle.co.uk , calling our Oldham-based newsroom on 0161 633 2121 , tweeting us @oldhamchronicle or messaging us through our Facebook page. All contact will be treated in confidence.