Hybrid Lexus impresses so much
Reporter: Steven Berry
Date published: 30 November 2018
Classy: The Lexus GS 450h Premier
Motor review
Lexus don't do the obvious.
If they did then their four-door executive saloon would have a powerful diesel engine fitted upfront, say like BMW, Audi, Jaguar or Mercedes.
But no, Lexus do things differently so you'll find the Lexus GS utilises a petrol engine which is buddied-up to a powerful electric motor.
Yep, hybrid is the way to go, say Lexus, but does it make sense in practice?
The GS is available with two different power set-ups. The GS 300h uses a 2.5-litre, 4-cylinder "Atkinson Cycle" petrol unit mated to an electric motor. The much-more lairy GS 450h which, in place of the 2.5 litre unit has a V6 3.5-litre petrol engine instead.
While the GS 300h manages a respectable 0-62mph in 9.2 seconds, the GS 450h will manage it in under six seconds while still achieving 45.6 mpg on the combined cycle. Impressive figures for a mid-sized sports coupe, never mind a BMW 5 Series-rivalling saloon that comes with 4-doors and a spacious interior.
You'll pay quite a premium for that V6 power though – the starting price of the GS 450h is £53,050 while its less powerful sibling starts from just £36,125. There are also 4 trim levels for the GS 300h while the GS 450h makes do with just two – The F Sport and the range-topping Premier (£54,050), which I have had on test.
I like the exterior styling - with more swoops than a murder of crows, the huge, open front grille that seems to divide opinion and overall I think the GS is a very imposing car.
Fit and finish is up there with the best from Germany, albeit probably not quite so well laid-out or ergonomically pleasing. It's not quite as clean-cut as the Audi A6 but, to my eyes, is more interesting. There's plenty of comfort too.
The big difference between the Lexus GS 450h and its main rivals is in the driving. Being a hybrid the GS pulls away smoothly and silently in EV mode which makes a pleasant change from the rattle and clatter of a cold diesel engine first thing in the morning.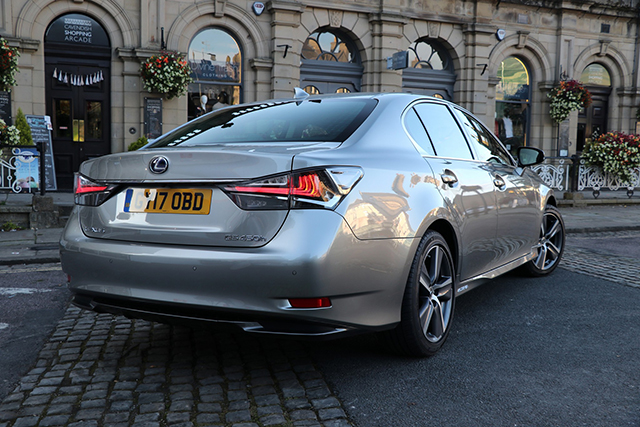 Even when up to speed and with the 2.5-litre V6 cutting in, things remain pretty quiet.
I found the CVT gearbox helped with its smooth, linear power delivery – although it did seem a little dim-witted when pushed hard and whined a little in protest at the red line. There's always the paddle-shifters though if you really want to get the best out of the extraordinary acceleration the GS 450h is capable of.
However, and here's the rub; the GS 450h just doesn't feel like much fun to drive. The adaptive dampers fall between two stools – a little too hard to make the GS a satisfying long-distance cruiser and a little too soft to enjoy throwing it around corners
So, is hybrid the way to go when it comes to executive saloons? Probably, but this face-lifted Lexus GS 450h has some way to go still to catch up and eventually overtake its oil-fuelled rivals. Refinement is terrific, build-quality is exceptional and styling is inspired but until a hybrid system can reap much bigger benefits to running costs (I averaged just over 30 mpg), people will still look at the figures and opt for diesel – unless the government has other ideas.
RATING: ***
Lexus GS 450h Premier
OTR Price: £54,050
Engine: 3.45 Hybrid
Combined Power: 345 DIN-HP
Transmission: CVT Auto
0-62mph: 5.9 secs
Top Speed: 155 mph
Combined Economy: 46.3 mpg
CO2 emissions: 141g/km