Big-hearted Aygo
Date published: 15 March 2019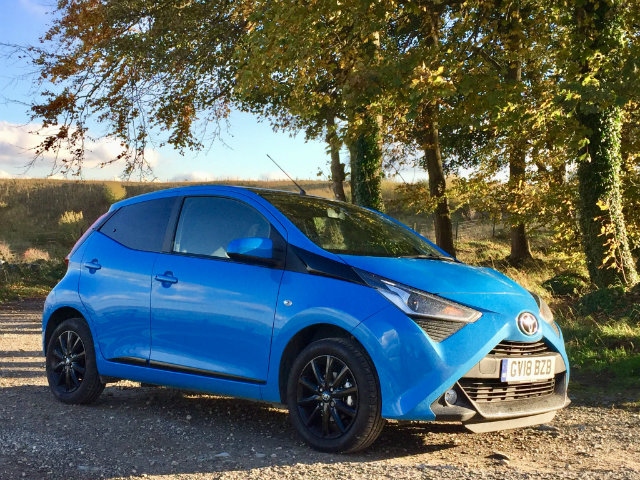 Toyota Aygo X-Trend
The latest incarnation of Toyota's small city-car brings some subtle visual changes and some welcome tech updates, including full smart-phone integration with Apple CarPlay and Android Auto. There's also a fettled 1.0 litre, 3-cylinder VVT-I engine that is now more efficient and brings power output up to 71 bhp from the previous 69 bhp.
But it's at the front where you'll notice the most difference with the striking X design now a full 3D feature rather than just a graphic. It looks rather cool too – in a Darth Vader-ish kind of way.
The headlamps have been redesigned with integrated LED daytime running lights which helps with the overall visual balance at the front and brings the Aygo bang up to date.
Other than that, you won't notice any other visual differences along the flanks although the rear light clusters have had an LED upgrade and there are new, smarter alloy wheels and some rather wacky paint options. Toyota have added some extra sound-deadening materials too, so motorway cruises should be a little more relaxed.
Inside it's very much "as you were" although there is a noticeable upgrade in the materials used. The cabin feels quite roomy and the driving position is good despite there being no reach adjustment on the steering wheel – just up and down. The main instrument cluster is well thought out with all the crucial info being clearly visible on the one, large circular dial. The upper-tier models also incorporate a rev counter on the outside of the dial.
Nothing feels flimsy or nasty – in fact it all looks rather good and that upgraded, 7in infotainment screen adds a large chunk of respectability. It's bright and bold with the icons being of good size making it an absolute doddle to use. The Pioneer unit comes with DAB radio, a USB port, Aux Port and now, crucially, Apple CarPlay and Android Auto which means you can have your smartphone Sat Nav app displayed instead of paying £400 for the Sat Nav option. The 4-speaker system on my model sounded pretty good for a city car with no distortion and acceptable bass levels.
This was all good news as I recently found myself driving a Toyota Aygo x-trend - with Mrs B and Mrs B's mum aboard - up to Penrith for a 5-day break. And yes, luggage was included too . . .
I was a little apprehensive about fitting us all into the 4-seater, 5-door city car with our luggage and I also worried that once loaded up the poor little Aygo would struggle to reach any kind of decent speed on the motorway as its tiny 998cc, 3-cyclinder engine would surely "work to rule" given such a task.
I needn't have worried on either count. With one of the 50/50 rear seats folded down we found we had enough room for all our luggage without obscuring the rear view. Pretty impressive to say the Aygo's boot is a mere 168 litres with both seats upright. Mrs. B's mum was also sat comfortably in the rear with no need for luggage on her lap and she survived the journey with no complaints whatsoever. She is tiny though . . .
The little Aygo's performance quite frankly astounded me and while I wouldn't be nipping in and out of traffic in town or accelerating quickly past other cars on the motorway the Toyota Aygo genuinely felt like it was more than up to the job. Once up to speed, cruising at 70mph on the M6 was effortless and without drama. Engine noise was no worse than many mid-range hatchbacks I've driven and although wind noise was evident it didn't stop the 3 of us being able to have a comfortable conversation.
The Aygo didn't appear to lose power on the hills either and an average mpg figure of 55 also added to an overall impressive performance that changed my perception of just what modern-day city cars are capable of with the only complaint being lack of cruise control – although the Aygo does come with a speed-limiter fitted as standard.
The new Toyota Aygo still shares its platform and engine with the Peugeot 108 and the Citroen C1 but being the most premium choice is a little more expensive with prices starting at £9,295 for the Aygo x which is a little sparse on equipment with 14in steel wheels and no air-con. It is the only Aygo available as a 3-door though.
Better then to opt for the x-play which has 15in steel wheels, manual air-con, electric door mirrors and a 4-speaker audio system with DAB radio for £11,375. An auto option is also available on this model and above for £700.
The Toyota Aygo x-trend costs £12,710 on the road and comes with 15in machine-faced alloy wheels (not pictured), the excellent x-touch 7in touch-screen multimedia system with reversing camera, Bold Black side sills, auto headlights and privacy glass along with automatic air conditioning.
The £12,975 Aygo x-cite is only available in eye-catching Bi-tone Magenta Fizz paint and comes with glossy black alloy wheels and a Bold Black roof. Finally, there is the Aygo x-clusiv for £13,895 which adds fancier 15in alloys, the option of a Silver Sparkle roof as well as Smart Entry and Push-Button Start.
The Aygo is the best looker of of the 3 sisters with the boldest styling which, I suspect, is most appealing to the younger driver. The likes of the Hyundai i10 may have the edge dynamically but I couldn't really fault the little Toyota Aygo because it performed above and beyond what I had expected.
In the solo miles I drove it I found it to be peppy, likeable and yes, even fun to drive. The gear change is a big improvement on the original model which sometimes felt like you were stirring paint. It's now snappier and much less vague.
The ride quality is decent for a city car that you won't be throwing around corners anyway. Okay, the VW up! felt more refined inside but the Aygo pipped it to the post for overall driving satisfaction for me. It simply felt more willing on the hills and so long as you keep that 3-pot unit buzzing along you'll find it great fun too.
VERDICT: *****
AT A GLANCE:
Toyota Aygo x-trend
OTR Price: £12,710
Engine: 1.0 3-cylinder petrol
Power: 71 bhp
Transmission: 5-speed manual
0-62mph: 13.8 secs
Top Speed: 99 mph
Combined Economy: 68.9 mpg
CO2: 95 g/km