Lexus UX doesn't disappoint when it comes to comfort.
Date published: 14 January 2020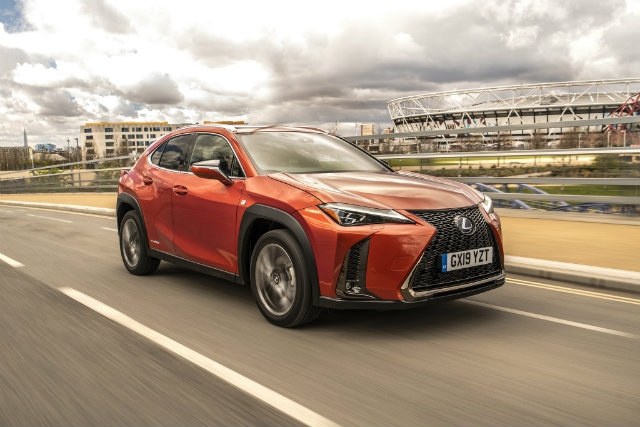 Lexus UX
If you were to run through a crowded car park blindfolded, the chances are that the first car you would bounce off would be a compact SUV. They're more prolific than a politician's promises at the moment – but, thankfully, much more reliable.
Amongst the most reliable would be the Lexus UX 250h. The Japanese manufacturer has an enviable reputation for its spanner-work - which may be enough to steer you toward the brand if the UX's self-charging Hybrid powertrain, stylish looks and premium interior aren't enough.
The UX is the smallest of the three Lexus SUVs (four, if you count the 7-seat RX-L) and goes up against the likes of the Audi Q2 and BMW X2 in the premium, compact crossover market; so, it needs to be comfortable as well as provide a great driving experience.
The interior of the Lexus UX doesn't disappoint when it comes to comfort with superbly crafted front seats that hold you very well and a quality feel to the cockpit that matches anything Germanic.
The only fly in the ointment is that Lexus insist on using an awkward track-pad method to navigate a rather dated-looking infotainment system.
However, the rest of the interior will put a smile on your face with soft-touch materials, double-stitched leather and an excellent driving position.
It all looks cutting-edge too, with a 10in. landscape infotainment screen dominating the dash on the higher spec models (7in on others) while the main instrument binnacle houses a digital display that has a central bezel that shifts to the right at the touch of a button to reveal the menu options. Cool.
Comfort levels up front are excellent while rear passengers get adequate leg room but that sloping roof means anyone over 6ft may struggle. Boot space is fine at 438 litres - although the Four-wheel-drive version (E-Four) only achieves 401 litres.
Prices for the Lexus UX 250h start at £29,905 on-the-road for which you get the same petrol/electric hybrid engine as the top-spec Takumi model and the same CVT auto gearbox. Standard levels of equipment and tech are impressive with the likes of Sat-Nav, DAB Radio, dual-zone air conditioning, heated front seats, roof rails and 17-inch alloys.
Between the standard UX and the Takumi there is the F Sport trim-level (from £33,905) - which I have been driving - and this adds such things as 18-inch alloy wheels, F Sport front seats with fabric and Tahara upholstery and F Sport pedals and steering wheel. The specification also includes rear privacy glass, LED front fog lights and a heated steering wheel.
Takumi models (from £36,105) have 4-wheel-drive and offer leather upholstery, integrated front seat heating and ventilation, a bespoke Mark Levinson 13-speaker Premium Surround Sound system, 10.3-inch Lexus Navigation and multimedia display, 360-degree camera, colour head-up display and a sunroof.
Driving the UX doesn't throw up any surprises other than how quiet the powertrain is compared to other models that use a CVT auto gearbox. It appears to have lost its whine which is good news.
Being a hybrid, you can select EV mode and the car will run along silently at lower speeds with the 2.0-litre petrol engine only kicking in when you demand more power.
Wind noise at motorway speeds is well subdued, as is tyre noise and along with how well-planted the Lexus feels at speed and good all-round visibility, you have a car in which you could happily cover many miles without getting stressed. The Lane-Keep Assist and intelligent Cruise Control certainly helps here but they're a welcome bonus rather than essential.
The UX feels sprightly too, thanks to that boost from the electric motor. It feels quicker than its official 0-62mph time of 8.5 seconds and with 181 bhp on tap it's capable or raising a smile on twisty A-roads as well as being a fine cruiser.
Overall, the Lexus UX impresses on my fronts – its refined, well-built, stylish inside and out with a hybrid powertrain that means you don't have to compromise between power and planet. The UX 250h only produces 94g of CO2 per km so business users should benefit too.
RATING: ****
AT A GLANCE:
Lexus UX 250h F Sport
OTR Price: £33,905
Engine: 2.0 Petrol/Electric Hybrid
Power: 181 bhp
Transmission: E-CVT Automatic
0-62mph: 8.5 secs
Top Speed: 110 mph
Combined Eco (WLTP): 49.5 - 53.2 mpg
C02: 94 g/km