Erhan nominated for British Kebab Awards gong
Date published: 13 February 2018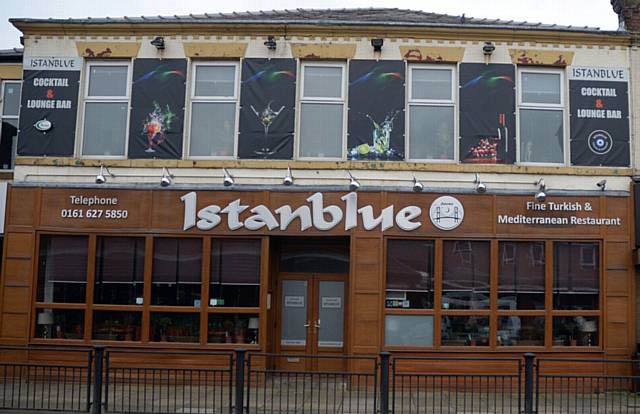 The hugely popular Istanblue restaurant in Royton
Erhan Karakoc, from the Istanblue restaurant in Royton, is up for the prestige Chef of the Year prize at this year's British Kebab Awards after finalists were unveiled having received a record number of nominations.
Kebab businesses from every corner of England, Scotland, Northern Ireland and Wales are battling for gongs in 16 categories, from Best Kebab Van to Best Newcomer, ahead of the sixth annual awards ceremony on Monday, March 12, in London.
Members of the public nominated 5,012 of their favourite kebab shops.
These were whittled down to a shortlist of 153 based on the number of public votes received, with bonus points for nominations from MPs and councillors.
In Erhan's hotly-contested, 10-candidate strong Chef of the Year category, Besnik Hajdari of Javits Takeaway in Edinburgh is aiming for the double after the restaurant won 2015's Best Kebab in Scotland award.
But he faces stiff competition from last year's winner, Mazlum Demir from Skewd Kitchen, in Barnet, North London and Haci Akdogan of Haz Restaurant in London's Square Mile, who triumphed in the best chef category in 2015.
Last year's Northern Irish winner - Sphinx in Glengormley, County Antrim - is up against five other finalists including its sister restaurant in Belfast - itself a two-time champion.
The winners of the sixth annual awards will be announced after a final round of judging by the British Kebab Awards judges, who include former Tory chairwoman Baroness Warsi, Children's and Families' Minister Nadhim Zahawi, Shadow Economic Secretary Jonathan Reynolds and Amjad Bashir MEP.
The annual event is the only one to recognise the contribution made by the kebab industry to the British economy – which is worth more than £2.8billion a year and supports around 200,000 jobs across restaurants, suppliers and the food industry.
This year's awards will also raise money for the bone and soft tissue cancer charity Sarcoma UK.
Every day, more than 1.3m kebabs are sold across Britain.
There are now over 20,000 kebab outlets in the UK selling around 2,500 tonnes of lamb and chicken doner a week.