A decade of fair trade in Oldham
Date published: 26 February 2018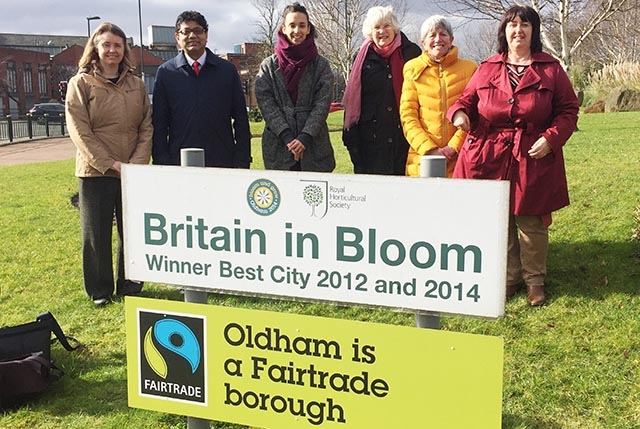 Celebrating a decade of fair trade in and around Oldham
This month marks a decade of Oldham being a Fairtrade borough.
The town first achieved the accreditation back in 2008 thanks to the help of scores of volunteers from local businesses.
Since then around 50 retailers, catering outlets and schools have begun to sell Fairtrade products, supporting growers and producers across the world.
To celebrate a decade of Fairtrade in Oldham, leaders are now calling for new businesses to join forces with them and share their commitment to supporting growers and producers overseas.
Cllr Abdul Jabbar, Oldham Council Deputy Leader, said: "We're proud to be a Fairtrade borough and do our bit to support growers and producers in emerging nations.
"Often they don't get a fair deal and can face exploitation and that is wrong. It's a small gesture on our part but one that, if we all join forces and support, can make a big difference."
This year, the Fairtrade Foundation's campaign is entitled "Come On In" and will challenge the British public to open their doors to Fairtrade and help close the door on the exploitation facing the people who produce the things we love to eat, drink, and wear.
Running from today (February 26) until March 11, people are invited to learn more about the people who grow our food to see what life can be like when farmers and workers aren't paid fairly.
To mark the week in Oldham a number of events are taking place.
On Wednesday, between noon and 2pm, there will be a pop up Fairtrade shop at The Salt Cellar on Church Lane near St Mary's Church in the town centre.
There will also be two coffee mornings; one on Thursday, March 1 from 10.30am at the Playhouse 2 Theatre in Shaw and another on Saturday, March 3 at the United Reformed Church on Union Street. .
There is the opportunity to taste Fairtrade chocolate and cake at both these events.
Then finally, on Saturday, March 10 from 10am there will be a bake-off and coffee morning at Uppermill Methodist Church.
You can even vote for the winner at www.uppermillmethodistchurch.org.uk/fairtrade-bake-off
For more information about Fairtrade in Oldham, visit and follow https://twitter.com/fairtradeoldham.
You can also visit www.fairtradeinoldham.org.uk