Oldham pizza lovers have got what it takes!
Date published: 02 March 2018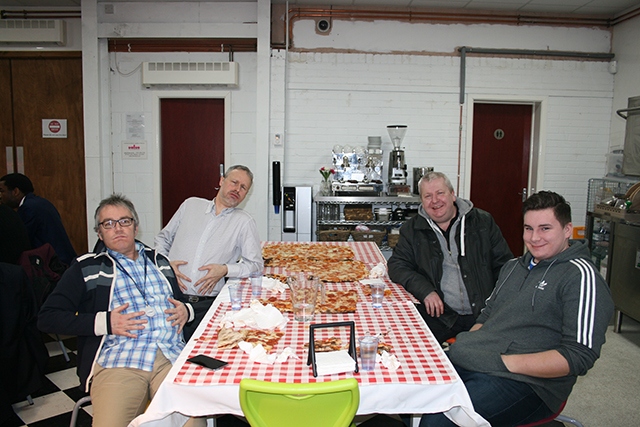 The LLK Pizza Challenge proved a little too much for the Chronicle team!
During the month of February, Oldham-based catering equipment supplier Linda Lewis Kitchens invited pizza lovers to take part in an exciting challenge.
This challenge was in the form of a 'Man vs Food' inspired pizza eating contest, all in aid of local hospice Dr. Kershaw's, as part of the charity's '£28 for 28 days' challenge.
Teams from the Chronicle, Oldham Council, EB Roofing, Oldham College, Sefton's Accountants, Archer's Catering Systems, IM&T and Oldham's oldest solicitor firm, Wrigley Claydon, all came together to take on the mighty 50 x 50inch pizza challenge, and byt the end of the month a magical total of £736 was raised.
Contenders had just one hour to complete the pizza cooked by LLK's development chef Fabio, including its toppings.
The 50 x 50 challenge was a difficult task but, much to Fabio's surprise, EB Roofing, Oldham College and the winners IM&T succeeded at completing it.
IM&T managed to complete the challenge with 20 minutes and 23 seconds left, placing them at the top of the pizza professionals' 'Wall of Fame'.
Not to be surpassed, team LLK also decided to take on the team 50x50" challenge and managed to accomplish it with three minutes and 43 seconds left to go.
The individual pizza challenge, where the challengers had an immense 28" pizza to eat within 45 minutes, was not beaten as easily.
Five competitors - Tony Godding, James Holland, Ryan Coffey, Matt Bowden and Craig Murray - fearlessly attempted the challenge, only to be defeated by the dough.
"Dr. Kershaw's is an incredible local charity, which LLK regularly supports," said commercial director Jenna Lewis.
"Their '£28 for 28-day' challenge sparked LLK's imagination and set our marketing executive, Grace, on a mission to get all local businesses involved.
"The hospice is an independent charity, which helps lots of people in the Oldham area and it is one that's close to our hearts at LLK.
"We knew that offering pizza was going to be popular, but we did not expect the response that we received.
"Every slot we had available was full. I have already been asked by participants what our next challenge will be."
The £736 will help those who visit the hospice, who are in need of palliative care with non-curable and life-limiting illnesses, in a comfortable and home-like environment.