Award fillip for Caremark
Date published: 09 February 2018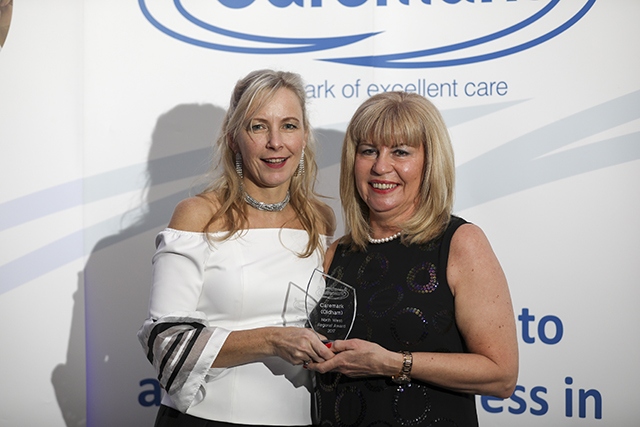 Helan Graham (left) and Stephanie Doherty in celebratory mood
Helan Graham and Stephanie Doherty are celebrating a fantastic start to the year, after Caremark (Oldham) was crowned as the best business in the region.

The coveted 'Best Regional Business Award' was presented to Helan, Stephanie and their team at a glittering gala event at the De Vere Hotel in Daventry.

With over 100 offices from across the UK in attendance, the conference acted as an opportunity for the Caremark network to come together and recognise exemplary businesses of note.
Caremark (Oldham) actively demonstrated a commitment to the care they provide clients, supported staff with comprehensive training and maintained a professional approach at all times – just a few of the reasons they were honoured during Caremark's annual conference.

Helan and Stephanie were thrilled to receive the award. On behalf of Caremark (Oldham) they said: "It was incredible to win the regional title and to be thanked for the hard work we all put in every day.

"Our clients continue to remain at the centre of everything we do.

"To be recognised for our commitments is testament to the quality of care we provide. It was a wonderful evening and I am so proud of the whole team."

Anne O'Rourke, who is the Managing Director of Caremark in the UK, was overjoyed to honour the client-focused business on the night.

She added: "Helan and Stephanie are a great example of all that is right within the care sector. They are a capable and caring team running a business that truly makes an impact in their community.

"Thank you both for continuingly going above and beyond for your team of carers, your office staff, and all of your clients."

Caremark (Oldham) was established in September, 2011, and provides high quality care to hundreds of local residents, in their own homes.

Helan, Stephanie and their team work closely with local support organisations to ensure they provide the home care services that local residents are most in need of.