Call in for some free cancer advice and support
Date published: 06 March 2018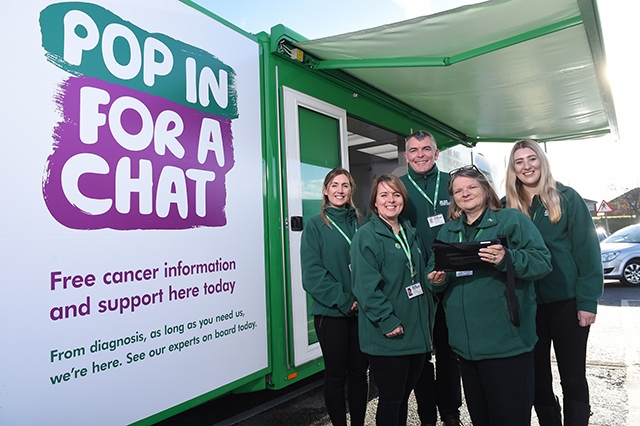 Macmillan Cancer Support's Mobile Information and Support Service will be visiting Tesco on Chew Valley Road
Free cancer advice and support is coming to Saddleworth on Friday, March 16.

Macmillan Cancer Support's Mobile Information and Support Service will be visiting Tesco on Chew Valley Road, with cancer information specialists on hand to answer any questions.
The team is now encouraging anyone with worries relating to cancer to stop by, anytime between 9am and 4pm.
With March being prostate cancer awareness month, Macmillan is encouraging men to know the signs and symptoms.
Prostate cancer is the most common cancer in men in the UK, with more than 47,000 diagnoses every year.

Jo Trask, a Macmillan Information and Support Specialist on the unit, said: "Knowing what changes to look for and when to see your doctor could make a real difference.
"You are not wasting your doctor's time by getting your symptoms checked.
"The earlier prostate cancer is found, the more likely it is to be successfully treated."

Men are advised to see their doctor if they have any of these symptoms:
difficulty passing urine and taking a long time
passing urine more frequently than usual, especially at night
the feeling of not completely emptying your bladder after you've passed urine
needing to rush to the toilet to pass urine (urgency)
blood in the urine or semen
pain when passing urine or ejaculating (this is rare).
Men aged over 50 or who have a father or brother who has had prostate cancer are more at risk.
Black men have a higher risk of developing prostate cancer than white men.

A variety of prostate cancer-related materials are available for free from the team, who can also talk through any queries. Materials are also available for other forms of cancer.
Last year, the Macmillan Mobile Information and Support Service – which includes a fleet of six bright green buses – reached 181,334 people across the UK.
For further information about the service, go to www.macmillan.org.uk/mobileinfo
If you are unable to visit the unit but have questions about cancer, visit www.macmillan.org.uk or call Macmillan free on 0808 808 00 00 (Monday to Friday, 9am to 8pm).
You can find out about Macmillan services near you at: www.macmillan.org.uk/inyourarea