Northern Care Homes receive top industry award
Date published: 08 March 2018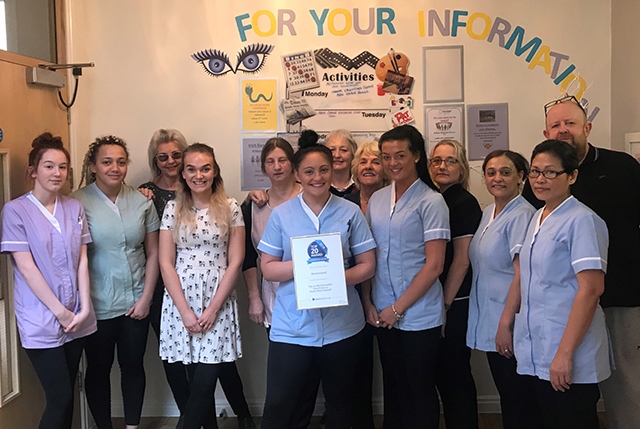 Staff at Northern Care Homes' Stoneswood base
Residents and their families have rated Oldham-based care provider Northern Care Homes as one of the Top 20 small care home groups in the UK.
There are over 18,500 care homes in the UK, with the top 20 small care home groups receiving an award from the leading reviews guide to care homes, carehome.co.uk.
The award is based on the provider's care home reviews from their residents, as well as their friends and relatives.
Davina Ludlow, Chair of carehome.co.uk, said: "Care home groups, which put dignity, compassion and kindness at the heart of their care, are making a profound difference to residents' lives.
"Our reviews show that Northern Care Homes provides a high standard of care throughout its homes and we would like to congratulate it on being a top small care home group.
"We feel it is a real achievement to be recognised for being in the Top 20 care home groups in the UK."
Val Campbell, manager of Northern Care Homes' facility at Stoneswood in Delph, said: "Our aim at Stoneswood is to provide our service users with a secure relaxed, and homely environment, in which their care, well-being and comfort are of prime importance.
"We strive to preserve and maintain dignity, individuality and privacy of all our Service Users within a warm and caring atmosphere, and in doing so will be sensitive to the service users' ever changing needs.
"Service users are encouraged to participate in the development of individualised care plans, and the involvement of family and friends is greatly valued.
"Without our skilled caring team of staff none of the above would be possible.
"We are very grateful to them for being so caring and compassionate towards our people and helping them to live life as they wish with dignity and respect.
"They also enjoy a feeling of being valued and part of the local community."