Keeping patients on the move for 25 years
Date published: 11 May 2018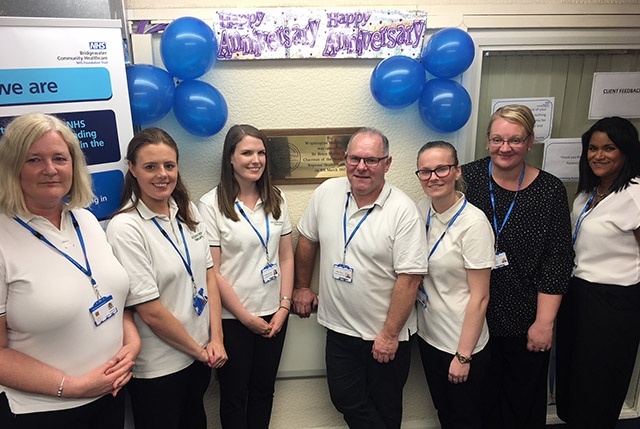 Celebrating the North West Driving Assessment Centre's 25th anniversary
NHS staff, former clients and representatives from the Department of Transport and Driving Mobility came together in Haydock to celebrate the North West Driving Assessment Centre's 25th anniversary.
The service, based in Haydock, Merseyside and delivered by Bridgewater Community Healthcare NHS Foundation Trust (Bridgewater), welcomed over 650 people with a range of disabilities, illnesses and health conditions across the region through its doors last year, including 38 from Oldham.
It is one of only a handful of NHS driving assessment centres in the country and has a dedicated and friendly team of occupational therapists, driving instructors and administrators on hand to offer comprehensive advice and assessments on both vehicle adaptations and driving ability.
The centre also has a fleet of specially adapted dual control vehicles on site which are used as part of the assessments and it offers driving lessons to people with specialist health conditions who are unable to learn in a normal vehicle.
At the event, the service's Clinical Lead Deborah Murgatroyd also celebrated being in her role for 25 years.
She is the only original member of staff remaining from service's launch in 1993.
Deborah said: "Everyone in the service is delighted to celebrate the North West Driving Assessment Centre's 25th birthday.
"I am incredibly proud that the robust support, assessments and expert advice we have provided has helped many people with complex health needs in the North West to stay independent and driving.
"Our assessments have also helped to keep people across the North West safe on the roads.
"We welcome anyone in the region who needs help and support with vehicle adaptations or an assessment to contact the centre directly or speak to their GP or health professional."
To find out more about the support available from the North West Driving Assessment Centre visit www.bridgewater.nhs.uk/northwestdrivingassessmentservice or call 01942 483713.