New, slimline Mason so proud of his lifestyle change
Date published: 14 May 2018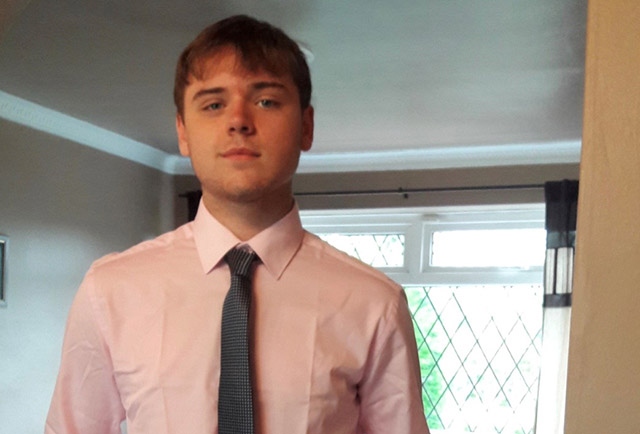 The new slimline Mason Hey
A seventeen-year-old from Royton has been celebrating after losing four stone in weight to reach the finals of a national slimming competition.
Mason Hey was delighted to make the final 32 of Slimming World's Young Slimmer of the Year 2018 competition, out of all of the 16 to 21-year-olds who attend Slimming World's 18,000 groups across the UK and Ireland.
The competition recognises the enormous achievements of young people who are making long-term lifestyle changes to become more active, healthier and happier.
With more and more young people overweight or obese, healthy lifestyle help for children, adolescents and their families is in high demand.
Many young people are so severely overweight that they're even beginning to suffer serious conditions like Type 2 diabetes and high blood pressure.
Slimming World supports people of all ages to make changes to their lifestyle and develop healthy habits for life.
And since 2006, the organisation's Family Affair programme has provided support free of charge for 11-15 year olds who attend with a parent or guardian.
Mason joined the Oddies Royton group to help him learn more about healthy eating.
He said: "I knew that my weight was an issue, yet like many young people I just didn't know where to start when it came to eating healthily.
"My weight had left me feeling more and more self-conscious, and it was starting to affect me in lots of different ways such as lacking confidence in my acting auditions, and not wanting to socialise as much with my friends.
"It was a pretty nerve-wracking idea to join Slimming World at first.
"I thought people might judge me for being young and overweight and I didn't really think it was the sort of thing people my age did.
"I couldn't have been more wrong though, everyone was really welcoming.
"My friends and family are really proud of what I've achieved – and I'm feeling quite proud of myself too actually.
"Eating more healthily has made me think about how active I am as well, so once I had started to lose some weight, I started going to my local gym and I really enjoy it, so much so, I got a job there too."
Mason (pictured above before his weight-loss programme) began following Slimming World's Food Optimising healthy eating plan.
He added: "I can still have burgers, chips, curries and chocolate – I just have to make some healthy swaps, like switching white bread for wholemeal and using lean cuts of meat.
"Understanding my relationship with food has been a real eye opener and I've learned how to cook a bit too.
"I feel as though I'll be able to keep up this healthy way of life forever – which is something I never thought I would say.
"My confidence has grown loads too."
Since that first visit, Mason has lost four stone to reach his target weight, and feels on top of the world.
As a result of his incredible achievement, his fellow members in the Oddies Royton group voted for him to represent them in the semi-finals of the Young Slimmer of the Year 2018 competition.
Kate White, who runs the Oddies Slimming World group which Mason attends, said: "I'm so proud of Mason.
"What he's achieved is so much more than just losing weight.
"I've watched Mason transform into a strong and confident person who has the world at his feet.
"Joining Slimming World has given him the knowledge and skills to make healthy choices and develop new active habits that will stand him in good stead for the rest of his life.
"Most of all it's given him the self-belief to achieve whatever he puts his mind to.
"Anyone who wants to lose weight – whatever their age – and wants to know more about the difference that Slimming World can make is welcome to pop along to my group at The Oddies in Royton on Tuesdays at 10am, 5pm and 7pm, at Downey House on Thursdays at 7pm and at Norden Primary School on Fridays at 10am."
Unfortunately Mason was not the overall winner of the national Slimming World competition, but he's absolutely Royton's winner.