Keep a check on your mental health
Date published: 22 May 2018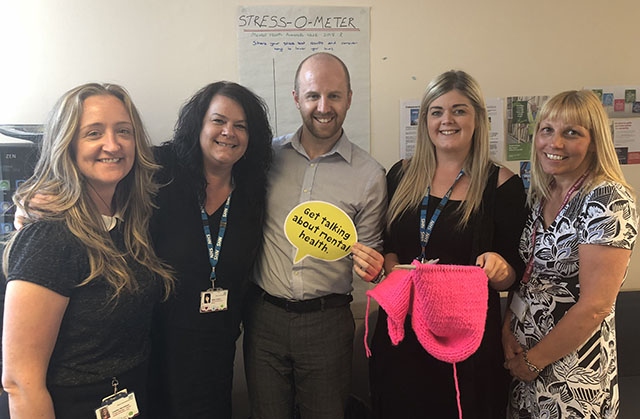 Pictured are: Louise Herniman, Project Manager; Adele Graham, Commissioning Business Manager; Gary Flanagan, Senior Commissioning Business Partner for Mental Health; Sophie Yates, Senior Commissioning Business Partner and Julia Taylor, Commissioning Manager.
Mental health problems are all too common in the workplace and nationally it is currently the leading cause of sickness absence.
A staggering 70 million work days are lost each year due to mental health problems in the UK, and so during Mental Health Awareness Week, the commissioning team at NHS Oldham Clinical Commissioning Group (CCG) came together to raise awareness and support each other.
Colleagues across the organisation took the opportunity to measure their stress levels, share them and learn about the different ways to relieve and even prevent stress from becoming an issue in the first place.
Gary Flanagan, Senior Commissioning Business Partner for Mental Health at the CCG, explained: "Research has shown that two thirds of us experience a mental health problem in our lifetimes, and stress is often a key factor.
"By tackling stress, we can go a long way to tackle mental health problems such as anxiety and depression.
"Stress is not a mental health problem in itself, but it is a key cause of mental health problems like depression and anxiety and can also lead to physical health problems like muscle and joint pain and cardiovascular problems and in the more serious cases, to self-harm and suicide."
The team at the CCG, who are responsible for planning and procuring hospital, primary and community health care services for the population of Oldham, marked the Awareness Week event by taking the online Mental Health Foundation's online stress test, using the evidence-based perceived stress scale (PSS).
They then shared resources including books on relaxation and hobbies including knitting, information about the CCG's staff running club, Heart & Sole, details of local walking groups and information about various health and wellbeing facilities available to staff.
Flanagan added: "Stress is something that as individuals we often ignore, but we really do need to look after ourselves and take it seriously.
"We are proud to be an organisation which champions openness and transparency around these issues, and we are committed to supporting staff when it comes to looking after their mental health, both during this awareness week and all year round."
Information on how many people in the UK population as a whole are affected by stress is very limited.
However, the Mental Health Foundation's most recent survey found that nationally over the past year, almost three quarters (74%) of people have at some point felt so stressed that they felt overwhelmed or unable to cope.
The survey, commissioned by the Mental Health Foundation and undertaken by YouGov, polled 4,169 adults in the UK in 2018.
For the full report, go to https://www.mentalhealth.org.uk/publications/stress-are-we-coping