Stuart still has Stax of energy
Date published: 02 February 2018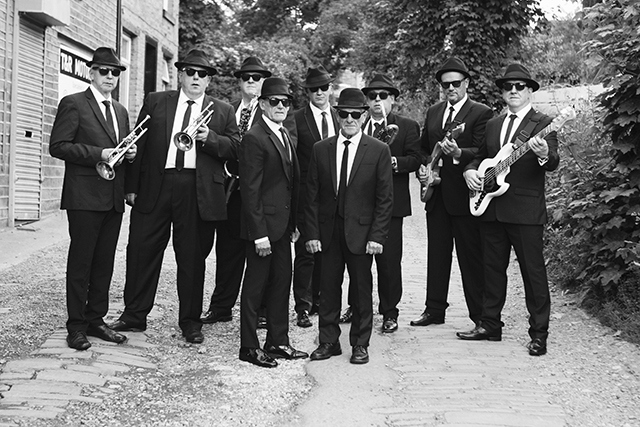 Stuart Widdall with Stax of Soul
An exceptional talent with an incredible voice, Oldham's self-proclaimed 'soul-man' Stuart Widdall is still going strong after more than five decades in the music business.

It's been an amazing career for Delph-based Stuart, the popular singer in legendary soul band Stax of Soul and also main man in the Soul Amigos.

He's shared a stage with the one and only Edwin Starr, recorded singles and albums and packed out venues of all capacities.

He might have a bus pass these days, but Stuart is set to continue to drive his own soul train for a few more years yet.

Asked whether he may be considering putting his microphone away anytime soon, Stuart said defiantly: "I don't envisage that at all.

"As I always say to my wife and my daughters, if I'm a laughing stock I'll jack it in straight away, but I think people are still getting enjoyment out of seeing an old man like me doing these things.

"Don't forget, all the great soul men are old now.

"I've not had to order the zimmer frame just yet!

"I'm an active 60-plus. I still go to the gym every day, I still go running, I need to keep fit for the show we give our audience."

It has been a delightful 54-year journey of soulful discovery for front-man Stuart, who kicked-off his amazing singing career at the age of just 14 with local Oldham band TNT and the Dynamites.

Amazingly all five of the band's members lived within doors of one another on Stag Pasture Road in Limeside, so the rocky road to semi-stardom began.

TNT and the Dynamites were essentially a typical rock n¹ roll group, playing cover versions of songs from artistes such as Tommy Tucker, the Coasters and Ray Charles, and presenting them enthusiastically at church halls and youth clubs from Failsworth to Hollinwood, and even beyond to Chadderton - Stuart often having to be sneaked into a pub gig via the back door as he was under age!

The Dynamites had their own little town-based fan club, but after four years - by now it was 1967 ¬- they called it quits and some of the members morphed into 'Harlem John's Reshuffle' ¬ a soul-influenced band who were also heavily into the Oldham mod scene at the time.

Harlem John's Reshuffle won a 'Beat' contest at Warrington¹s Co-Op Hall when one of the judges, William Leyland from LE Enterprises, was so impressed he signed them up and eventually a recording deal with Fontana was signed.

Stuart and the boys were gigging all over the North-West and at BFPO Forces' Headquarters across the UK.

Their first single -¬ 'You are the one I love' - proved a moderate success even after being slated on the radio by a certain Tony Blackburn.

In 1969 the next Reshuffle single - 'Everything under the sun' - was released, followed by a 12-track self-titled album, but pop stardom wasn't to come off in the end, with Harlem John's Reshuffle disbanding in 1970.

From there Stuart formed a band called 'Listen' that played together for 12 months. He then teamed up with LE Enterprises again as solo act Paul Stewart, before then featuring in two more bands, 'Fuel Injection' and 'Cannon'.

After getting married in 1977 and two daughters later, he decided to take a break which lasted for almost 10 years, but music has always been in his blood and after a chance meeting with a fellow musician he was asked to front the now legendary Stax of Soul.

He was to make his mark with Stax of Soul for more than two decades, gigging up and down the country at venues big and small - including once, famously, at the gigantic Battersea Power Station in London until their very last gig at the Salford Willows Club in 2011.

Since 2011 Stuart has been with Soul Amigos - alongside fellow Stax of Soul members, keys man Don Parfitt, and guitarist Darren Roberts and new member bassist Pete Clark - and so there appears to be no sign of him calling it a day yet.

And now, there has been such a huge demand for the revival of Stax of Soul, the band recently reformed and have headlined the Delph's 'Party in the Park' for the last two events.

"It's a great well organised event by the Delph Committee and I was so proud to be asked to be part of it," beamed Stuart.

So instead of slowing down, Stuart is now travelling up and down the country with both bands.

The Soul Amigos have appeared every year at the now firmly established August bank holiday Manchester Soul Festival in the Printworks.

That day-long extravaganza raises funds for the Christie Hospital charity fund which was started by the late Frank Byrne, a well-known Manchester-based DJ.

In 2017, Stax of Soul were asked to take part and unsurprisingly took the festival by storm. They will be appearing again this year.

Stuart is proud of his achievements over the years, adding: "People sometimes say I remind them of Steve Marriott (the late Small Faces front-man).

"That's a great compliment as I believe he had one of the best white male soul voices ever."