Oldham keeps on rocking
Reporter: Simon Smedley
Date published: 07 March 2018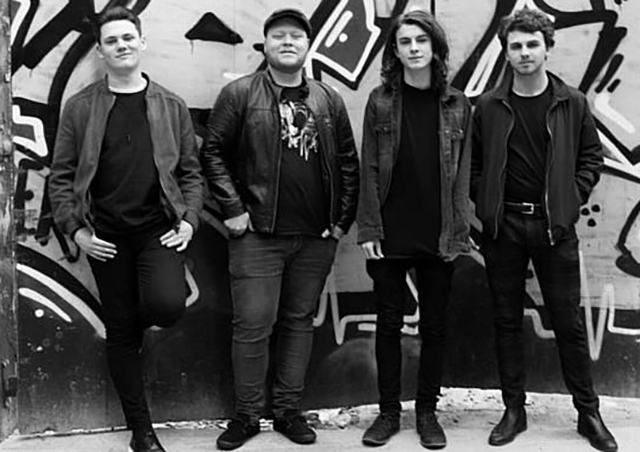 Proletariat have sold out their Deaf Institute show
The Oldham independent music scene continues to flourish, with bands new, old and now revived continuing to gear up for what promises to be a hectic spring and summer 2018.
Excitement continues to build ahead of Twisted Wheel's much-anticipated return.
Many of the Wheel's 'Snakes and Ladders' April, May and June tour dates have sold out, while the band are booked to feature at a small warm-up gig in Holmfirth on Saturday, March 17.
The gig will take place at a friend's music shop - Hot Banana Music - in the centre of Holmfirth, so tickets have long since sold out.
The Wheel then play the Stockton Calling all-day festival on Saturday, March 31, where headliners include the Lightning Seeds and the Spitfires.
There has been a recent tweak to the revamped Twisted Wheel line-up.
Former drummer Adam Clarke has returned to the band after eight years, with James Highton having been replaced.
Former Shadow Palace front-man Harry Lavin will join Jonny Brown's Wheel on the bass, while Richard Allsopp will also play guitar.
Brown beamed: "We are going to blow everyone out of the water.
"There are some good bands about, I'm now knocking anyone, but this is proper stuff we're producing and it's going to be respected.
"Guitar solos are back, and when we're going to be firing on all cylinders together, we'll be unstoppable.
"Twisted Wheel are going to be miles bigger than last time, definitely.
"In two years I think we could be touring the States, you never know."
Mossley anarchists Cabbage continue to weave their unorthodox musical message across the country, and tickets continue to fly out for their Nihilistic Glamour Shots tour of the UK in April.
After just over two years of making terrific stride after terrific stride, Cabbage release their maiden album on March 30 to precede the tour, which starts on April 4 in Aberdeen and wraps up in Portsmouth on the 21st.
Just before the tour kicks in, Cabbage have just announced that they play a special show at Blitz Preston for Action Records on Saturday, March 31.
After that and the tour, the band play a self-proclaimed 'May extravaganza' at The Ritz in Manchester on May 19.
'Glamour At Thee Ritz' features an impeccable line up, also featuring the brilliant PINS, The Blinders, The Rhythm Method, Lady Bird and Sports Team.
On the subject of Mossley, young punks Proletariat continue to make terrific progress and their headline show at Manchester's prestige Deaf Institute on Friday, March 23, has now sold out.
The band – James Cummins, Connor Dolan, Aaron Hall and Luke O'Reilly – release new single 'Nervous Energy' on Spotify and Apple Music on March 23, while Saturday, April 28, will see them play the 'Either Way' festival at Gulliver's in Manchester city centre.
Proletariat's last single – 'Kiss of Death' – was Double Denim Live's Track of the Day recently, another smart little achievement.
Finally Mossley-wise, five-piece outfit Freeda have just announced a Manchester headline date.
They play the popular Soup Kitchen venue on Saturday, June 9.
Freeda's debut single – Plug it in' – is out now on Apple Music, Spotify and SoundCloud.
Oldham indie hopefuls Dirty Laces are another hard-edged outfit who are making an increasing impact on the city scene.
They have sold out a Leeds gig this weekend (at Verve Bar), but return closer to home on Saturday, March 17 when they play Jimmy's in Manchester's northern quarter.
All tracks on Dirty Laces' well-received recent EP release – 'The Modern Age' – should get a good airing that night. Tickets are available via the link on the band's Facebook page.
Saddleworth-based Gardenback – who have secured a slot at Kendal Calling in July – continue to spread their word across the north-west.
After playing at Leeds and Liverpool on consecutive nights next week, Ellis, Neil and Jacob return to the city on April 14 when they play the brilliant 'When in Manchester' festival.
The festival will showcase over 25 up and-coming UK artists in association with Haig Club, BIMM and Skiddle.

Tickets are priced at £12.
BASSIST Phil McArdle has decided to leave Last Race Home and focus all his efforts on his continuing commitments with ace Chadderton indie band Ok Broken.
Ok Broken smashed their set at the 'March of the Mods' charity all-dayer at Manchester's Band on the Wall last weekend, while 2018's new singles 'Ground Control' and 'One more time' continue to be well received.
ROYTON rockers Mother Kraken have turned to www.indeigogo.com in a bid to raise funds towards recording their second EP.
Check out the link on the band's Facebook page.
A band post read: "We'll be giving regular updates and news on our progress, we can't wait to share our excitement with you."