These Lads are ready to make their mark
Date published: 13 March 2018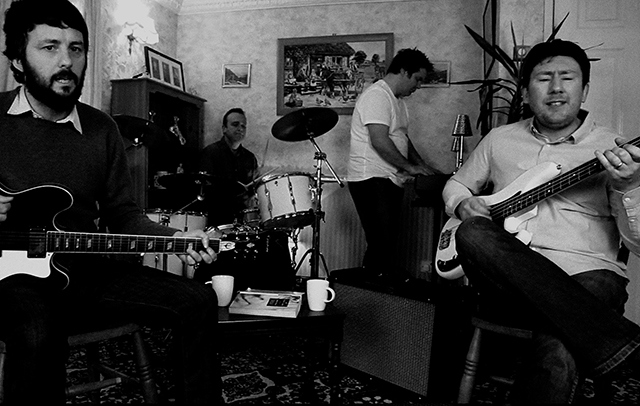 The Smashing Lads are gearing up for a busy Spring
Scroll down for Video
Class Oldham outfit the Smashing Lads are looking forward to making a significant impact on the local music scene this Spring.
The band – front-man Joe Whelan, bass/vocalist Mark Burke, keyboard player Pete Wood and drummer Keith Unwin – are preparing a two-pronged attack, namely with an appearance at the phenomenal 'Atmosphere' festival at Mossley FC on Saturday, May 26, while there's a brand new self-titled album of approximately 10 tracks to be released around the same time.
The Lads – who combine a refreshing indie sound with amazing true-to-life lyrics – are all looking forward to their spot at Atmosphere, when they are set to share the stage with some stellar names from the past couple of decades.
Whelan said: "It's a great line-up isn't it? Cast, Scouting for Girls and Republica, who we've supported before.
"They're all top bands.
"I was speaking to the promoters last week, just getting an update, and it just sounds so good. The whole line-up is top-drawer.
"It's been properly organised and hopefully, if the weather stays kind, it'll be an unbelievable day.
"Even if it's raining it'll be a good do.
"I'm taking the kids too, and it is going to be a top family day.
"I think there's going to be plenty for them to do, so there really is something, and some sounds, for everyone."
Cast and Scouting for Girls headline Atmosphere, which will be staged at Mossley's Seel Park Stadium.
90s faves Republica will be a hugely popular draw, while Manchester heroes A Certain Ratio and Northern Uproar also feature, as well as fellow highly-rated up-and-coming outfits Corella, Time for Action, and ace Oasis cover band, Oaces.
The line-up will also be complemented by a terrific DJ line-up, which includes Bez (of Happy Mondays fame), Leeds star Dave Beer (Back to Basics), Manchester underground legend Jay Wearden and Revolution Radio's very own Dave Sweetmore.
Tickets are now available via the link on the festival website: www.atmosfest.com
In terms of the Smashing Lads' maiden album, there appears to be even more excitement in the camp for that ahead of the planned late Spring release.
Although the band have only ever officially released 'Easier said than done' previously, there are videos online accompanying fellow terrific tunes 'Smart Aleck', 'Forever Northern' and 'Bottom Block'.
They have all gone down well among a gradually increasing fan base, but now, with more new and old tracks set to get an airing soon having worked with Phil Bulleyment at Edwin Street Studios in Bury, the Smashing Lads hope to get the message out to a whole new crowd.
Asked about the decision to release a full album's worth at this stage of the band's development (they formed in 2013), Whelan replied: "Why not? I know it's not really a good answer, but it just felt like the right time.
"We've been playing the set for a few years now, and as the new songs were starting to be added to the set over the last six months or so, we just felt like we needed to get them all down.
"It's good stuff in our opinions, so it is worth getting down.
"We should release it and we think people will listen to it.
"It's nothing to do with money at this level of course, but we just feel confident about the tunes.
"We believe in them, and they're just our honest reasons really.
"Whenever we play a gig, people come up to us after and say they enjoyed it.
"Hopefully new people will connect with the album, certainly those of a certain age should do.
"They should connect with the kind of stuff we're talking about, whether that's characters, situations, or just life in general and that feeling you get maybe when you're approaching 40.
"The album is dark in places, and quite serious, but there's positive statements in there too. It's just reality really."
The Smashing Lads album will be available on CD and via various digital platforms in around 10 weeks time.
They also hope to press a number of vinyl copies.
More gigs will be booked as soon as the album launch date is revealed.
Check out the band's new album trailer below, and get an exciting feel for what terrific sounds are in store soon.
Excitement is building ahead of the Smashing Lads' album release in the Spring.