Get ready to rock with Republica
Reporter: Simon Smedley
Date published: 14 March 2018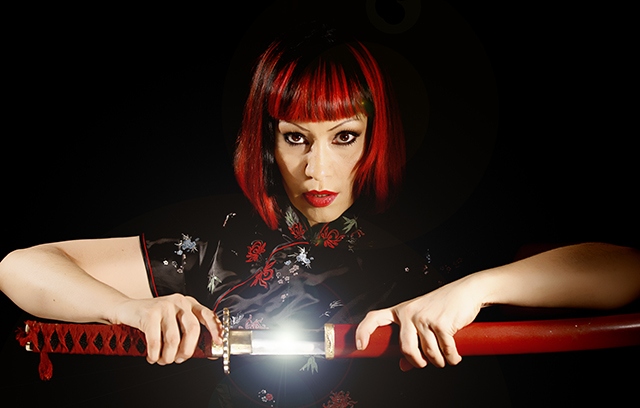 Republica vocalist Saffron, who is heading to the Atmosphere festival in Mossley with her band in May
They've been described as a 'technopop punk rock' band and also an 'alternative rock' outfit who made it big in the glamorous 90s.
However, whatever pigeon hole their huge fan base might want to place their sound in, Republica are still very much in demand.
Led by the effervescent and uber-talented vocalist Saffron (born Samantha Sprackling in 1968), Republica are still riding the crest of a rock n' roll wave and you can see them play live at the all-day Atmosphere festival in Mossley on Saturday, May 26.
"We're booked right through the summer – it's great," said bubbly London lass Saffron, whose most recognisable hits with Republica included 'Ready to go' and 'Drop dead gorgeous' in 1997.
"During the last two years we've been everywhere – Dubai, Tel Aviv, the Netherlands, Denmark, lots of places.
"The demand for us to play live is still there, and to be honest we never really split up properly.
"We've all been mates for around 25 years now and we'll continue to be so.
"We write, record, mix and produce all our own songs, in our own studio, so it's fantastic.
"The whole Britpop, kind of indie rock sound has really come back to the fore recently, and that's nice for a lot of people. They want it back, clearly."
After packing out the Uppermill Civic Hall recently, Saffron and the band – keys man Tim Dorney, guitarist Johnny Male and new drummer Conor Lawrence – can't wait to play again for Ginger Pigeon Promotions at the Atmosphere festival.
It promises to be an amazing day when a stellar line-up converges on Mossley FC's Seel Park stadium.
Saffron said: "We're privileged to have been asked to play Atmosphere.
"It's brilliant that it's at a football ground too, because 'Ready to go' is so intrinsic in so many sporting circles, all over the world even.
"They might not know our name, but that track is so associated with football.
"It's brilliant what (promoter) Dave Hulmes is doing. Dave Beer is a friend of mine so it'll be great to see him, and we're mates with Cast.
"I'm a great admirer of John (Power) and everything he's done, so I'm really looking forward to seeing them play.
"It's fantastic for people to get the chance to see lots of different bands all playing on the same day."
Saffron herself has always kept herself busy on the music scene since those early days in the early 90s building up Republica's reputation.
Since then she has worked with such diverse artists as The Cure, The Prodigy and even legendary rocker Jeff Beck.
There's one guy who has prove to be Saffron's major influence, however, and that was the original 'modfather', Paul Weller.
"I was lucky to see the Jam at Brighton centre at was their last gig (in December, 1982)," recalled Saffron.
"I was just mesmerised by Paul. I was right down at the front, and the minute he came on stage he was just so stylish.
"He had attitude, great clothes, shoes, the whole fashion.
"He started playing his guitar and then singing, and I just thought 'I want to be you'.
"That was it really. Paul's individuality as a front-person, and his style of singing, totally appealed to me.
"He's such a great writer as well.
"Maybe it was the whole Brighton thing, and Quadrophenia was around as well, it was amazing.
"When we supported him at Crystal Palace years later, that was one of our greatest honours it has to be said.
"When some of his fans said to me later that they loved our set, that meant such a great deal to me personally.
"I've always been a huge Weller fan and he is one of the main reasons I still do what I do."
Headlining 'Atmosphere' are two more terrific and massively popular chart bands from the last couple of decades – Cast and Scouting for Girls.
Emerging from the Britpop movement of the mid-1990s, Liverpool-based Cast signed to Polydor Records and their debut album All Change (1995) became the highest selling debut album for the label.
Led by the uber-talented John Power, further commercial success continued with Cast's albums Mother Nature Calls (1997) and Magic Hour (1999).
The band split, then re-formed in November 2010 and released their fifth album Troubled Times in November 2011.
Cast's sixth album Kicking Up the Dust, which was released on 21 April 2017.
London-based, and formed in 2005, Scouting for Girls signed to Epic Records in 2007.
They released their self-titled debut album that September and it reached #1 on the UK Albums Chart in 2008.
To date it has sold over 1,000,000 copies in the UK.
A second album 'Everybody Wants to Be on TV' was released in April 2010 and peaked at #2 on the charts.
This was preceded by the single "This Ain't a Love Song", which went to #1 on the UK Singles Chart for two weeks.
To date, Scouting for Girls have sold over 2,000,000 records and have been nominated for four Brit Awards and one Ivor Novello Award.
Also on the stellar 'Atmosphere' bill will be Manchester heroes A Certain Ratio, Northern Uproar, as well as highly-rated up-and-coming outfits Corella, Time for Action, the Smashing Lads and ace Oasis cover band, Oaces.
The line-up will also be complemented by a terrific DJ line-up, which includes Bez (of Happy Mondays fame), Leeds legend Dave Beer (Back to Basics), Manchester underground legend Jay Wearden and Revolution Radio's very own Dave Sweetmore.
Tickets are now available via the link on the festival website: www.atmosfest.com