Twisted Wheel are rockin 'n rollin again!
Reporter: Simon Smedley
Date published: 02 June 2018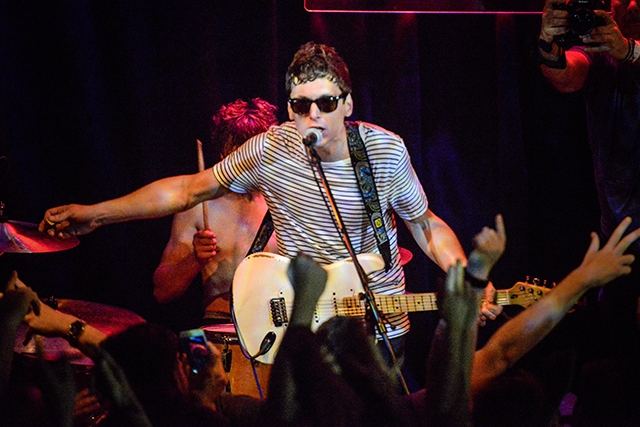 Twisted Wheel front-man Jonny Brown in full flow at the Band on the Wall. All pictures courtesy of Tim Simpson
MUSIC REVIEW - Twisted Wheel at the Band on the Wall, Manchester
According to the Twisted Wheel press release copy I received recently, the current 'Snakes and Ladders' tour is all about the band blowing the ladders of opportunity they were given – and the snakes which led to them falling off the board.
It's a tour about getting back in the game, finding opportunity again and avoiding those slithery serpents.
Well, this correspondent was among the heated throng at the Band on the Wall on Friday night, and believe me, the Wheel are right back in the game.
Fronted by the irrepressible bundle of energy that is Jonny Brown, he is now joined by original drummer Adam Clarke and new members Richard Allsopp (guitar) and ex-Shadow Palace front-man Harry Lavin (bass).
Accompanied by my photographer pal Tim Simpson - who promoted Twisted Wheel's first-ever gig at the Uppermill Civic Hall the first time around - we both knew we were in for a treat as soon as 'Lucy the Castle' struck up, first number.
The sold-out melee - totalling almost 500 - roared like a pride of wild lions, and when 'She's a Weapon' swiftly followed, everyone was well and truly in the zone.
It was hot and sweaty, there was plenty of fire and skill from the Weller-inspired Brown and his cohorts, and they treated their adoring and loyal fans to a belter of a set.
Personal highlights for me were 'Smash it Up' and 'Strife' - of course - while new tune 'Jonny Guitar' got an airing - a 200 miles-per-hour hard-edged potential classic that is set for release soon.
As Brown guided his re-formed heroes eased seemlessly towards the end of a pulse-racing set there was a stage invasion during the brilliant 'Oh, what have you done?', though it did seem that wasn't quite whole-heartedly welcomed by the talismanic front-man and inspiration.
'We are Us' wrapped up a quite unforgettable 'homecoming' show, and as the overheated throng headed off away from the iconic old venue, every single one of them was completely and utterly satisfied.
Oldham's very own Twisted Wheel are back and very much in business.
New Twisted Wheel tunes are due out over the summer, with an album set for release in September or October.
For the here and now, though, the 'Snakes and Ladders' tour continues.
Forthcoming dates:
June
7th – Head of Steam, Newcastle
8th – Adelphi, Hull
9th – The Underground, Stoke-on-Trent
15th – Bootleg Social, Blackpool
16th – The Hairy Dog, Derby
22nd – The Garrison, Barnsley
23rd – The Independent, Sunderland
30th – Cellar Bar, Blackburn
July
6th – Heartbreakers, Southampton