A very fitting tribute to society patron Jeffrey
Date published: 14 May 2018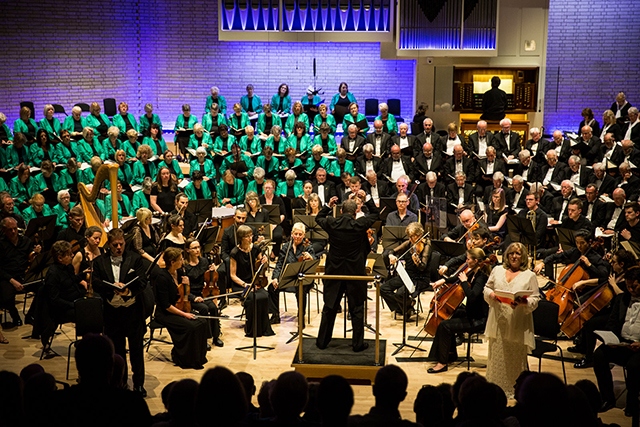 The Oldham Choral Society perform Elgar's Dream of Gerontius. Picture courtesy of Karen Shivas Photography
Review
Oldham Choral Society performance of Elgar's Dream of Gerontius
At its creation in 1900, Elgar's Dream of Gerontius was thought to be 'daring, even difficult', but 118 years later Oldham Choral Society and the East Lancs Sinfonia had no problems presenting such a magnificent rendition of the work that the applause continued unabated with shouts of 'more!', culminating this wonderful celebration of an 'old man's dream'.
Sadly, the Royal Northern College of Music concert hall was not full to capacity, but the audience gave the performers their total attentiveness and energy.
The 114-strong choir, assisted by members of the Burnley Choir in the guise of Angels, along with three excellent soloists, the 40-strong East Lancs Sinfonia and organist Alistair McKenzie, were all held together under the hard-working baton of the society's musical Director Nigel P. Wilkinson.
In 1898, Elgar was asked to write a major work for the 1900 Birmingham Triennial Festival and, almost on the last minute, he finished it to little acclaim due to the lack-lustre initial performance.
Others took it up and the work became one performed by many choirs over the years.
The tenor, Benjamin Hulett, sang the major solo role and Mezzo-Soprano, Kathleen Wilkinson, and bass, Thomas D. Hopkinson all combined to present superb performances.
The piece is based on a 900-line poem by Cardinal Newman, with Elgar using about half the number of stanzas.
The theme of 'Praise to the holiest in the height' was adapted for regular church singing and became a well-loved hymn.
Elgar had said he imagined Gerontius as a 'sinner … a man like us … not a saint' and deliberately eschewed traditional church-style music to give the piece 'a good, healthy, full-blooded romantic, remembered worldliness.'
A high standard to achieve, but Nigel, with his sound musical experience and control of every part of the performance brought out the best in singers and musicians alike.
A true celebration of his 20 years at the helm as Musical Director of Oldham Choral Society, undoubtedly one of the countries leading societies. It was an excellent performance.
The evening was tinged with sadness, however, as it was announced that Jeffrey Lawton, the much-loved patron of the society, had passed the day before.
Jeffrey last sang the part of Gerontius in 2003 and was well-known throughout the world of opera.
This Gerontius was a fitting tribute.
SF