Corella are making all the right noises
Reporter: Simon Smedley
Date published: 02 July 2018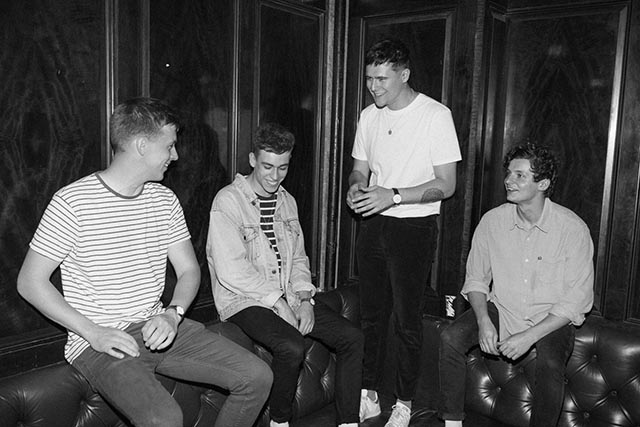 Corella smashed their own UK headline tour earlier in the year
Scroll down for Video
Almost three years of steady progress mean indie-popsters Corella are happy with the impact they have made so far, but they want more.
It's been a busy 2018 so far for the lads – front-man Joel, Oldham guitarist Jack, bassist Ben and sticks man James.
They've smashed their own headline tour of the UK, released single 'Caught up', enjoyed lots of positive media coverage and sold tons of terrific merchandise.
Now, though, it's time to concentrate a little more on writing new tunes – ahead of planned early-2019 EP release – while there are a few festival dates to look forward to.
Latest (acoustic) single 'Fever' is released later this week, and already you know that the reception to the tune is guaranteed to be ultra-positive.
James said: "We are striving for that next level now, trying to enhance the sound as best we can.
"We've been together nearly three years now and though we've always tried to keep stepping it up, every tune we write seems to progress in a different way.
"It's about consciously trying to keep setting that bar even higher all the time.
"We do need to improve all the time, that's so important.
"A lot of bands seem to get to that certain level and they then need to take that jump.
"We want to try and step it up a level and then some.
"We're all leaving Uni now so we'll have a bit more time to work on an EP.
"We're even moving in together. When that happens we can properly focus on nailing down our sound going forward. That's the plan anyway.
"We're going to try and be a bit cleverer with the new music I guess. It's about trying to get a step ahead of other bands really."
The headline tour was deemed a huge success, though some of the gigs were hard work logistically due to the awful late winter weather.
Included were dates in York, Leeds, Edinburgh, Birmingham and Bristol, amongst others.
Joel said: "It wasn't the best timing because of the weather, it was when a lot of the worst snow was coming down.
"It was a Spring tour so we didn't expect to have any problems like that, but it actually worked out all right because lots of people made the effort to come out.
"If anything, that kind of made it extra special.
"There was a good turnout at all of the shows, even at Edinburgh, where the weather was even worse.
"It was nice to sell a lot of tickets for places we hadn't played before, like Birmingham."
Corella will be booking in another Manchester headline show soon, and will hope to make it as special as the one they sold out at the Academy last October.
That was the gig which saw Corella arguably come of age.
"The reaction of the audience really struck all of us that night. It was amazing," said Ben.
"We'd watched the support bands earlier and they had quite a few people there, but when we went on stage there was just this massive roar.
"It was definitely the best gig we've done so far.
"We feel our popularity is still rising, and that's exactly what we want to do in Manchester in particular.
"It's such a massive city for us, and we do need to get as many people down to Manchester gigs as possible.
"One of our best shows before that had been when we sold out the Deaf Institute, so gigs like that will help us to keep getting better and better.
"Big crowds are what we want."
Corella's ace single 'Barcelona Girl' – released at the back end of last year – now boasts more than 600,000 plays on Spotify, while the on-location video has been viewed more than 50,000 times.
Their latest offering - a beautiful acoustic version of 'Fever' - signals a coming of age, in my view.
Crisp, clear lyrics soothed out by Joel are perfectly complemented by the cool trademark guitar licks of the front-man himself, Jack and Ben.
It's mellow, and not as upbeat as many of tunes in Corella's current classic live set, but it's a perfectly executed three-and-a-half minutes which is sure to prove a hit with the aforementioned growing army of fans.
The track is released on all platforms this Friday, July 6.
Meanwhile, Corella are set to play alongside giants Franz Ferdinand, The Cribs, Larkins, Glass Caves and many others at The British Sound Project showpiece at Trafford Park's Victoria Warehouse on Saturday, September 22.
Tickets and further details are available from the band's dedicated Facebook page.
A wonderful acoustic version of 'Fever' by Corella is released on Friday