Evil music live in Oldham
Reporter: Ellis Hodgkiss
Date published: 22 June 2022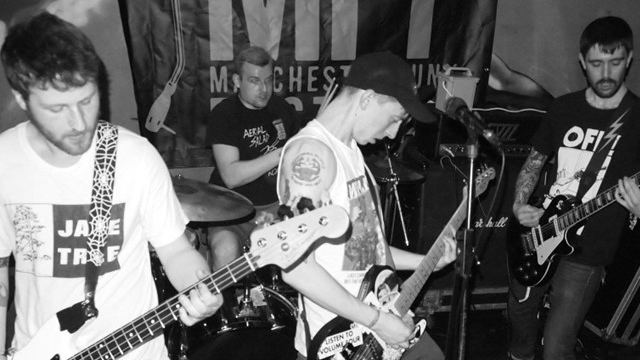 The Crash
For many people, the term punk music conjures images of safety pins through noses, tartan jeans and leather jackets. Indeed, this month sees the release of Danny Boyles new series 'PISTOL'- a dramatisation of the career of punk band The Sex Pistols in the 1970s. However, in 2022, punk has moved on the bravado of Johnny Rotten and co. In fact there is a vibrant and growing punk scene within Manchester itself, we spoke to Archie Moss of the Oldham based punk band Incisions to find out more.
In fact, Archie tells us that while 'there's a temptation particularly among younger crowds' to focus on Manchester for live punk music Oldham itself is overlooked.
'Danny Barrett, who plays in the Oldham Ska Punk band The Crash mats runs regular punk nights (called Evil Music Live) at The Bank Top Tavern and he has been doing for years'
'The gigs are usually free and have an impressive selection of DIY punk acts. Some will be local, some are touring the country'
For Archie, these nights in Oldham were some of the first punk gigs he attended while his interest in the genre was first emerging. 'I was exposed to bands like Blink 182 and The Offspring while watching Kerrang when I was younger' he says when asked about how he first started listening to punk music, but he says it was 'those 4 chords at the start of Smells Like Teen Spirit by Nirvana' that lead to Archie picking up a guitar.
His band Incisions have played across the country and last year released their second album "Bliss". The album had a great response, and their launch party at the Star and Garter in Manchester was a sellout gig, and the band are going from strength to strength.
'I still find it weird speaking to people I've never met that know our band' says Archie 'I've even heard of some people getting Incisions tattoos which is insane! I guess it shows we make something that resonates with people which is the biggest reward you can ask for'.
So how does the current punk scene compare with the one that came to public prominence in the 70s?
'I guess the umbrella term of punk rock has gotten so big now its impossible to pin down as one genre or sound. It has influenced almost every rock band you can think of for 40 years!'
'Having said that, one major change is the ethos that surrounds the scene. While a lot of bands might retain the aggressions that bands like The Sex Pistols introduced, its often pointed in a more conscious direction. There's a real sense of community that's integral to the punk scene today.
'Anyone can be a part of it in some way, whether its playing in bands, putting on shows or making your own zine! It's about being part of something that connects to so many people but still exists outside of mainstream culture'
Incisions released their new single 'Gasoline' earlier this year, and plan to release more through 2022.
---
Do you have a story for us? Want to tell us about something going on in and around Oldham? Let us know by emailing news@oldham-chronicle.co.uk , calling our Oldham-based newsroom on 0161 633 2121 , tweeting us @oldhamchronicle or messaging us through our Facebook page. All contact will be treated in confidence.