Wellens sets 54 points safety target
Date published: 22 February 2018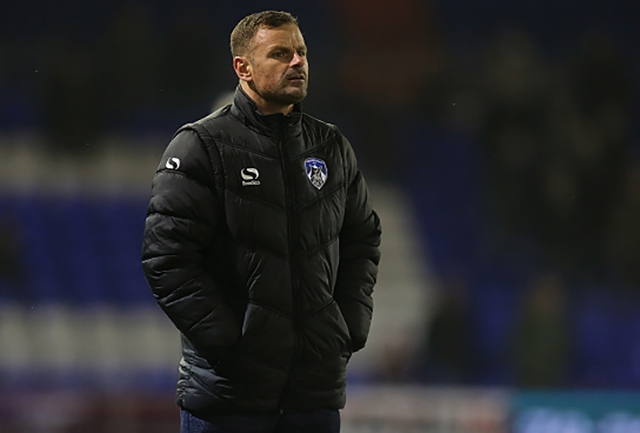 54 points safety target - Richie Wellens
With 13 games remaining in the Sky Bet League One season, Athletic boss Richie Wellens is still 18 points shy of his safety target.
Athletic return to action on Saturday with a home fixture against in-form Southend United.
Eleven days without a game means Wellens' men have slipped back into the third tier relegation zone – albeit only on goal difference – but the Athletic boss knows already what he feels will be required to stay up.
"I'm hoping we can pick up enough wins, we're playing well and we're being effective," said Wellens, whose side have picked up two victories and a draw in their last three matches.
"I'm pretty confident.
"We think about targets all the time, but games do surprise you at times.
"You pick up points when you don't necessarily expect to and then you might lose a game when you've been expecting to win.
"Targets are great, but unless you've got a crystal ball it's difficult to predict anything.
"All we know is that historically, 50 points keeps you up, but I'd like a few more than that.
"My target will be 54 points. That will probably be enough."
Athletic are set to be boosted by an appearance, finally after recovering from a thigh injury, of exciting attacking midfielder/striker Patrick McEleney.
The 24-year-old signed for Athletic from Dundalk on a two-and-a-half year deal on January 1, but hasn't yet been fit enough to feature.
However, the Irish hit-man is now ready to feature in Saturday's squad after getting a run-out in a behind-closed-doors match against a Manchester United XI at Carrington on Tuesday.
Boss Wellens added: "He was very impressive when he came off the bench against United.
"He's been disappointed of course, and now he feels like he's got a point to prove to everyone.
"I've said it before, but Patrick is a proper player.
"He's someone who can play in front of people and dominate, while he can also get around players.
"He causes people problems, he can take people on, provide assists, and score goals himself.
"He's two-footed, he can take free-kicks and corners as he's comfortable with either foot.
"It's been a big blow not having him for us because I've been looking forward to having someone who is a fresh player.
"He's been out for a long time so we'll have to be careful with him, but he'll be fine.
"We'll need to manage him, he can't be playing 90 minutes yet, but my thinking at the moment is maybe later on in games, when defenders are tired, he can come on for 20 or 30 minutes and be fresh.
"With Rob Hunt coming back too (in a week or two), and Eoin Doyle not too far away, the squad is looking pretty big at the moment, and this is what I want.
"It'll be difficult for me to get 18 players from the 22 or 23 available, as there's going to be four or five lads left disappointed, but that is what we want.
"We want players who are behind the first team to be chomping at the bit to really push the starting XI. That will increase the performance levels."