Wellens well prepared for Scunthorpe clash
Date published: 02 March 2018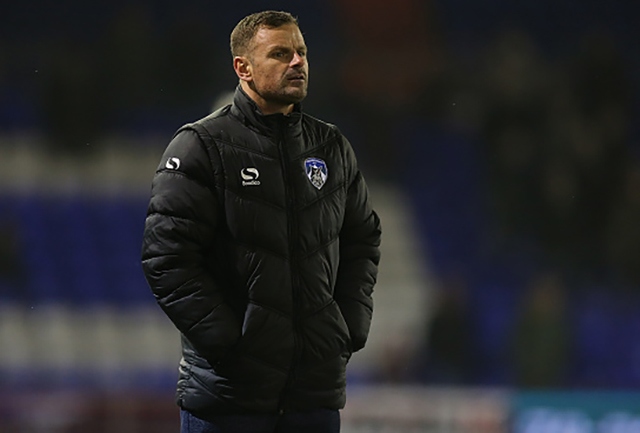 Richie Wellens is 'very hopeful' that tomorrow's game at Scunthorpe will go ahead
Athletic boss Richie Wellens just wants to get tomorrow's Sky Bet League One game at Scunthorpe on tomorrow.
If the Glanford Park clash does take place – both clubs remain very hopeful that it will as the pitch has been covered – it will be 18 days since Athletic last played.
They are currently unbeaten in their last three games and continue to battle hard to escape the dreaded relegation berths, but Wellens is unsure how his near full-strength squad will react to their enforced break once 3pm arrives tomorrow.
Asked about the near three-week break from action due to the recent cold snap, Wellens said: "We don't know what effect it will have had on the players, that remains to be seen.
"When you're on a good run you want the next game to come quickly, but we haven't been able to play for one reason or another.
"We just have to take the positives. It's given a couple of tired bodies more time to recover, and then we've got two or three still coming back from injuries.
"It's not been an ideal situation, but everyone has just got to try and get on with it.
"We've tried to find different Astroturf places, but even some of them have been frozen.
"We trained at the DW at the Trafford Centre a couple of times, and there has been a few other clubs in there along with us.
"Every club is in the same situation. You've just got to get on with it, not use it as an excuse, and try and prepare as best you possibly can.
"It's up to me to get the players motivated and ready for kick-off now. We'll use any freshness as a positive."
Athletic saw a midweek friendly match against Fleetwood called off due to the poor weather.
Defender Rob Hunt is doubtful to make tomorrow's clash as he is suffering from an Achilles problem, but front-man Patrick McEleney is fit.
Striker Eoin Doyle is still at least a week or two away from full fitness.
If tomorrow's game is postponed, Wellens confirmed that it would be re-scheduled for this coming Tuesday (March 6).
"If it is called off it's not a big deal because we can play on Tuesday," said Wellens.
"We have asked that question and there would be no problem with that.
"There's a better forecast for Sunday, so it would be 100-per-cent on, on Tuesday.
"We obviously want the game to go ahead tomorrow, but if it isn't it's not a problem. We won't need to arrange it for April or anything like that
"We're very hopeful, though I know it is a difficult trip for our supporters up there.
"It's not a nice journey, and there's been a lot of accidents on the route over the last 48 hours.
"Hopefully the weather will clear up because the main thing for me is that our supporters can get to the game and back safely.
"The pitch will be fine, it's just the surrounding areas that will be the concern."