Jake's now a massive Fane fan!
Reporter: Simon Smedley
Date published: 07 March 2018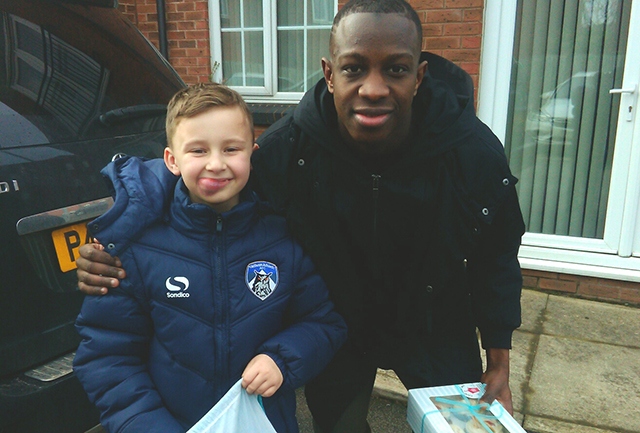 Jake Bacon with his new Athletic hero, Ousmane Fane
Young Boundary Park Juniors player Jake Bacon has a new favourite footballer - Ousmane Fane.
Athletic's French midfield star Fane (24) surprised Jake earlier in the week when he presented him with a gleaming pair of brand new Nike football boots.
Athletic fanatic Jake, who attends High Crompton Primary School and is a season-ticket holder at SportsDirect.com Park, had been feeling a little down in the dumps recently after he was forced to undergo hospital treatment.
He felt much better by the time he celebrated his 10th birthday recently, but then on Monday he and his mum Michelle Butterworth got the shock of their lives when Fane got in touch.
Michelle explained: "Ousmane got in touch after hearing from one of my friends.
"He contacted me to say he'd got Jake a present, so we met up with him and he'd bought a pair of brand new boots.
"Jake didn't have a clue what to say when he met Ousmane, his face just lit up.
"Ousmane is a really lovely guy and for him to do this for Jake is just brilliant.
"He's the nicest footballer I've ever met and he's Jake's favourite now."
Jake plays as a defender for Boundary Park's under-10s Blues on Saturday mornings.
He has been a dedicated Athletic fan since he was just two years old.
Paris-born Fane spent his early career in France and Norway with Bayonne, Paris, Racing Paris, GSI Pontivy and FK Lyn.
After playing with National League club Kidderminster Harriers, he signed a two-year contract with Athletic in August 2016.