Ground staff worked through the night to try and get Latics game on
Date published: 04 February 2019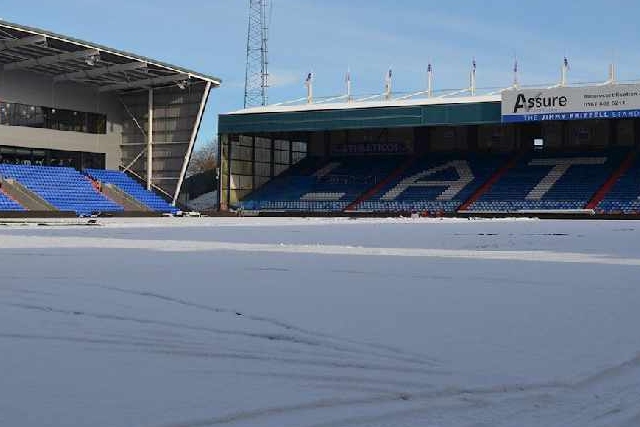 Snow scene at Boundary Park
Oldham Athletic's ground staff worked through the night in an attempt to get Saturday's match with Morecambe to go ahead.
The League Two tie succumbed to the weather, as snow and icy conditions hit the region.
The pitch failed an inspection on Saturday morning ahead of the match and a decision was quickly made to postpone the match.
It left caretaker boss Pete Wild frustrated.
He told the club's official website: "I thought with the efforts that everybody put in we were nearly there. I thought, given another 45 minutes to an hour, the game would have been on. But the referee's decision is final and, unfortunately, it's a tough one to swallow."
He revealed that the ground staff had worked non-stop overnight to try and get the game to go ahead.
"I'm gutted for the ground staff because they've stayed up all night trying to get the game on. I'm just really gutted we couldn't get it on because everyone has put so much work into this.
"I've just been and had a chat with them [the ground staff] to tell them their efforts were fantastic and I'm gutted for them that we couldn't get the game on.
"That shows again that people are willing to work hard. We've got some really good ground staff here, but you can only deal with the cards you're dealt.
"I felt they've given it everything overnight, in the last 24-48 hours to get the game on and they deserve enormous credit in what they've done, when you see clubs quite close to us across the country who just gave up yesterday."
The caretaker boss also saw a real community spirit in the town, with people turning out on Saturday morning to try and help out.
He added: "I thought you saw what I'd call good traits of Oldham people over the last two days, in the fact that everybody is prepared to muck in.
"Everybody was prepared to do their bit. I had to send the players in at one point because I didn't want them getting injured.
"It really shows that we've got some real good family values at this club, that everybody really wants the best.
"You put a simple call to arms on social media and you look this [Saturday] morning, we've got 50 people here.
"It's fantastic and shows people care and shows people want the best for the football club. You can see the disappointment on people's faces when it was called off. I'm gutted for them."
The postponement means the caretaker manager now turns his attention to Oldham's match with Crawley on Saturday.
Wild said: "We've now got a full week's training. We have a game on Tuesday behind closed doors that we'll probably give people a little bit more of a blast in and we'll work hard towards the game with Crawley on Saturday and see how that takes us."