Home-sweet-home for Oldham
Date published: 24 January 2018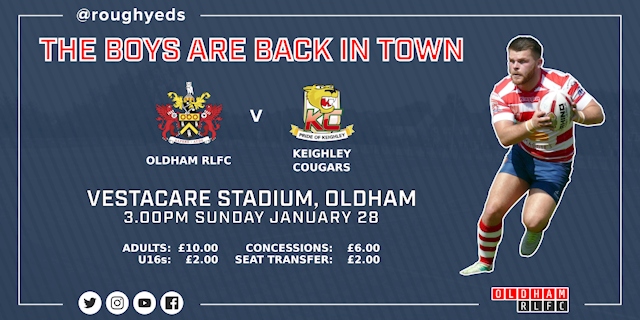 Oldham Rugby League, Vestacare Stadium, Limehurst Village
New-look Oldham will be back in town on Sunday for the first time in more than two years.

After playing at Stalybridge in 2016 and 2017, Roughyeds return 'home' for their third and final warm-up match against Keighley Cougars at the revamped Vestacare Stadium, Limehurst Village, kick-off 3pm.

They will play on the ground's new artificial pitch for the first time, although they've been training on it regularly during pre-season.

In previous friendlies, Oldham won 28-24 at Rochdale to regain the Law Cup and then lost 16-6 at Barrow with a side that included five trialists.

In both games, coach Scott Naylor was pleased with the player's desire and determination and he will be looking for a repeat against a Keighley side that has lost both its friendlies to date - 46-20 at Barrow and 28-0 at home to Batley.

He said his one reservation about the Barrow display was the struggle to make the most of sustained pressure and convert it into points, so he will also be looking for a sharper cutting edge in his attack on the firm and true surface.

It is understood he will not pick his squad until the end of the week, but most of his ten new signings will be making their home debuts.

Liam Bent (dislocated elbow), hookers Gareth Owen (foot) and Kenny Hughes, who had surgery on a damaged finger on Monday, are definitely out, but Naylor says all three are on schedule to be back before the end of February.

Admission prices are £10 adults, £6 concessions, £2 under-16s with a £2 across-the-board transfer for a seat in the stand.