New signings available for Roughyeds clash with Rochdale
Date published: 16 January 2019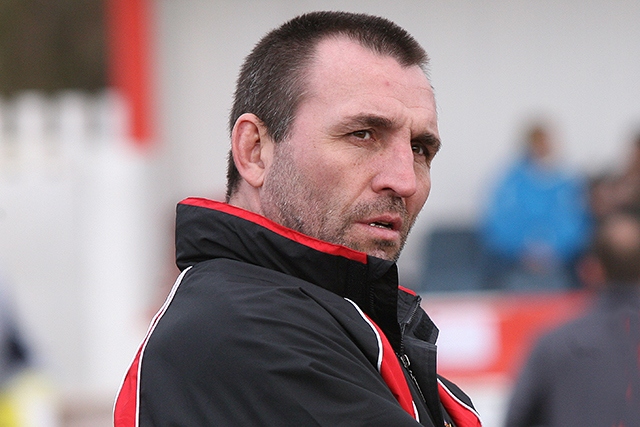 Roughyeds head coach Scott Naylor
Upbeat after their 24-10 win at Championship club Barrow, Oldham RL Club will add new boy Emerson Whittel to the squad for Sunday's Law Cup clash with derby rivals Rochdale Hornets at the Vestacare Stadium.
The former Keighley Cougars back-row forward didn't play at Craven Park because of a family commitment that was arranged before he signed for Roughyeds, but he was back in training at the club this week.
Head coach Scott Naylor confirmed he will be in contention to step out for a Law Cup debut, adding that Danny Grimshaw might also be in the selection frame after missing the trip to Cumbria because of a hamstring injury.
"We'll be keeping an eye on Danny and monitoring him during the week, but a final decision will be made later. We don't want to risk him unnecessarily," said the Roughyeds boss.
Six new signings were on view at Barrow so the chances are there will be seven in Sunday's derby - full-back Richie Hawkyard, winger Aaron Jones-Bishop, half-back Anthony Bowman and forwards Whittel, Scott Law, Jamie Greenwood and Ben Calland.
Local lad Harry Maders, who has signed on trial, is also expected to be given a run after doing well in his two spells on the left wing last week.
Naylor has urged fans to turn up in force to see his new-look side perform at the Vestacare Stadium for the first time.
He said: "This is no friendly, this is Oldham v Rochdale with all that means for both clubs and both sets of fans.
"It will be passionate, intense and extremely competitive because both clubs are desperate to win."
Looking back to the five-try win at Barrow, he added: "Good as it was, when we looked at it afterwards in depth there were a few areas in which we could improve massively.
"That augurs well for the season, if we can win at Barrow knowing we can play a whole lot better."
Kick off is at 3pm on Sunday.