Summer of Creativity: Sam turns heads - with hats!
Date published: 25 June 2021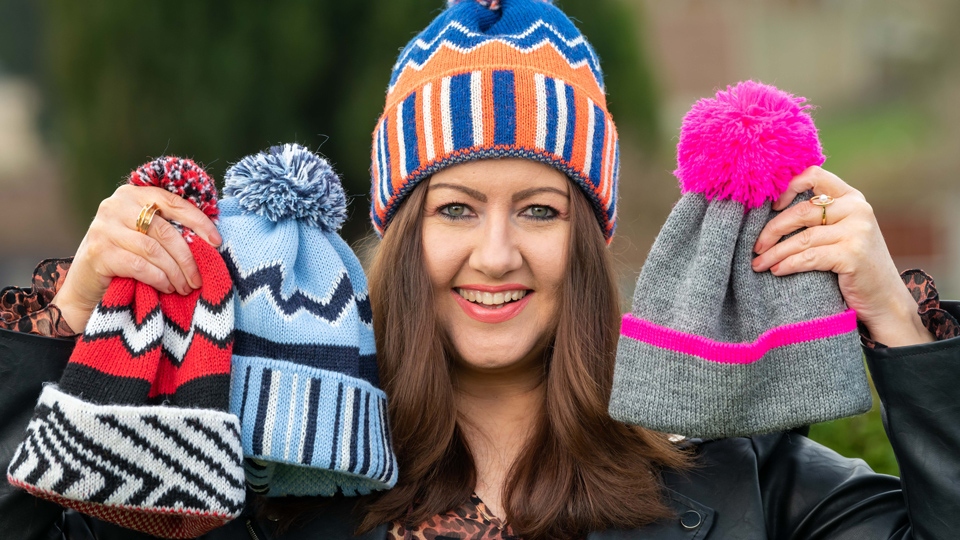 Sam Corry
As part of our "Summer of Creativity" with Spindles Town Square Shopping Centre and Oldham Council, we're celebrate everything creative about Oldham. And we're sharing stories of how ideas and inspiration have helped change lives.
A businesswoman from Oldham has made a mark on the fashion industry by creating her own bobble hat brand.
Samantha Corry, from Royton, has created her own business called 'From Samarie To You'.
With 19 years' experience as a pattern designer – and working for 14 years with Turner Bianca in Oldham – Sam found herself without a job when the global company had to make job cuts.
Despite being a competent and skilled textile designer, further work in the textile industry was hard to come by, as most of the production is now sourced from outside the UK.
After thinking of fresh new ways to use her designer expertise, Sam decided to design colourful and unique notebooks.
"I really wanted to cheer people up through lockdown, so I created notebooks with positivity phrases and colourful designs.
"By the end of October, I had expanded my designs. I'm an avid Oldham Athletic Fan, so I set about designing a notebook for Latics fans who were maybe missing the games."
Sam designed the Oldham Athletic themed notebook featuring a bespoke, vibrant, Latics-inspired bobble hat in the local blue and tangerine colours. The image stirred up interest from fellow local football supporters and further teams were added to the collection.
After receiving 'tonnes' of messages asking when she would produce a Latics bobble hat -something Sam had never considered – she took the plunge and found herself working alongside local yarn producers Shepley Wool based in Saddleworth.
"I sent them over my design, they were brilliant, so helpful and they sent me a sample of the design I had created, straight away."
After receiving the sample and posting a picture of her wearing it on Facebook, Sam experienced an influx of orders for her bespoke bobble hat.
From Samarie To You now has an new range of football team bobble hats including Manchester City, Manchester United, Liverpool, Leeds United, Burnley, Sunderland - along with fashion scarves, snoods, mugs and t-shirts which can be ordered in any colours.
It's only been a few months since Sam started the business, and since then she's become somewhat of a local celebrity, known as 'The Bobble Hat Lady'.
"I couldn't believe it when I was recognised locally and offered support. I am feeling very lucky, everyone has been brilliant and the Oldham community has been very helpful."
Sam hopes to work alongside local residents, projects and business to ensure her hats become entirely locally sourced.
The full range of products can be found on Facebook @FromSamarietoyou and Twitter @SamanthaCorry.
Share your stories of creativity here. Big or small, we want to share your ideas, your success, and your inspiration for others in our town. You could also be part of our exhibition at Spindles Town Square Shopping centre at the end of the summer.