Asian business group takes awards role
Reporter: Robbie MacDonald
Date published: 22 February 2017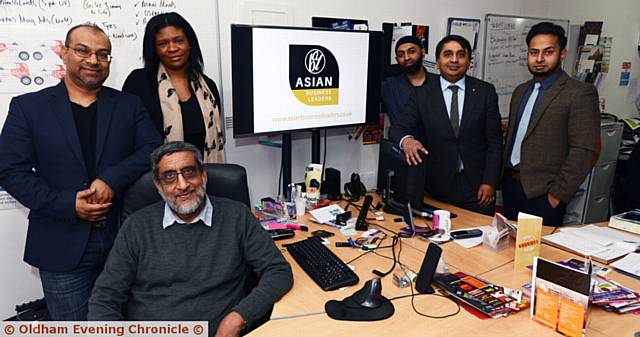 Asian Business Leaders' group is supporting the 2017 Oldham Business Awards. From left, Muz Khan (co-founder ABL), Akhtar Zahid (seated, founding father ABL), Dawn Torrington (head of sponsorship Oldham Business Awards), Karim Ahmed (DSGN UK), Kashif Ashraf (co-founder ABL), Ansar Ali (DSGN UK)
AN Asian business networking organisation has become a sponsor for the 2017 Oldham Business Awards.

The Asian Business Leaders group is supporting this year's awards, which will be the ninth annual awards with an informal reception for all finalists planned for late March followed by the black-tie dinner and awards ceremony at Queen Elizabeth Hall on Friday, May 12.

The group was founded by Muz Khan, Akhtar Zahid and Kashif Ashraf, who is also a volunteer on the Oldham Business Awards steering group. Its activities in recent years have included organising charity dinners for Oldham mayors and networking events with business, community, council and political guests.

Members of the group posed for a photo at the offices of Chadderton design business DSGN UK, which has taken part in the Oldham Business Awards over the past few years. Last year, DSGN UK was a finalist in the Community Engagement category while in 2015 it was a finalist in the Supporting Young People category.

Pictured, from left, is Muz Khan, Akhtar Zahid (seated), Dawn Torrington, who is supervising sponsorship deals for the Oldham Business Awards and is also a steering group member, Karim Ahmed, of DSGN UK; Kashif Ashraf and Ansar Ali, also of DSGN UK.

This year's judging process is being enhanced with workplace visits. Judging panels of three people have been created for each of the 11 award categories representing headline sponsor NatWest, the category sponsors and an awards steering group volunteer.

Each panel is responsible for drawing up a shortlist of finalists for each category and then arranging workplace visits to the three finalists.

The visits are intended to assist the judging but also encourage networking and sharing of information and advice between businesses, sponsors and NatWest representatives.

Once all workplace visits are complete, the judging panels will send their decisions to the Oldham Business Awards steering committee.

All three finalists for all 11 categories will be invited to a reception in March at Innovative Technology, in Derker, which is another major sponsor.

That reception evening will be followed by the formal awards dinner at Queen Elizabeth Hall in May when the winners will be announced.

See oldhambusinessawards.co.uk.