Taking stock of the future
Reporter: Robbie MacDonald
Date published: 08 March 2017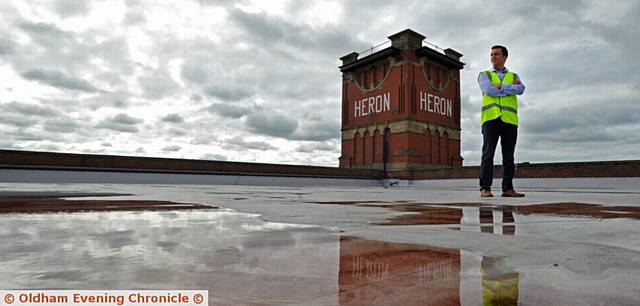 UP on the roof . . . Craig Holden (group HR director) at Heron Mill which will be used as a distribution warehouse
OLDHAM-based home ware, appliances and luggage group Ultimate Products was listed on the London Stock Exchange this week in a £105 million floatation.

The move has been described as one of the biggest initial public offerings so far this year.

Dealings began on Monday morning for Ultimate Products Global Source Holdings (listed as UPGS) with 82,169,600 ordinary shares admitted to trading on the London Stock Exchange.

Investment group Shore Capital is acting as brokers for Ultimate Products, which is based at Manor Mill in Chadderton, is refurbishing the nearby Heron Mill and also has an office in China.

The initial stock exchange offer is expected to raise gross proceeds of £52.6 million for the selling shareholders.

The firm sources, designs and sells about 2,500 cookery, dining, electrical, luggage, bed linen and other homewear products to more than 300 retailers across 38 countries. It includes Amazon, Argos, B&M and Homebase among its customers, owns the Beldray brand and the licence to sell some Salter and Russell Hobbs products in the UK,

Ultimate Products has forecast sales of more than £100 million this year and had held back from a stock market launch last year until the EU 'Brexit' referendum had been held.

Managing director Andy Gossage said the firm's 2017 order book had risen by 60 per cent and the company had benefited from expansion plans by discount retailers, deepening relationships with supermarkets and the growing popularity of online shopping. He put the firm's growth down to product innovation, the increased popularity of its brands and its relationship with supermarket and website operators.

He said Brexit would be challenging for the UK economy but Ultimate Products would be "getting our heads down and getting on with it."

Ultimate Products employs about 200 staff. At its Manor Mill headquarters, employees work across a range of roles including sales, administration, logistics and warehousing, imports, product design and marketing. The former mill building includes a showroom to display the latest product ranges to buyers for UK and overseas retail chains. The site also has management, marketing and IT offices, along with design departments, a photography studio and a video studio.

The company has developed its own graduate trainee scheme and is expanding this to take on more graduates from a variety of degree backgrounds.

The company is also renovating Heron Mill in Hollins for extra warehousing space. It has also entered the 2017 Oldham Business Awards

Ultimate Products was founded in 1997 by Simon Showman and Barry Franks. It was previously backed by private equity firm LDC, which held a 46 per cent stake.