Welding pair show their mettle
Reporter: Martyn Torr
Date published: 28 September 2012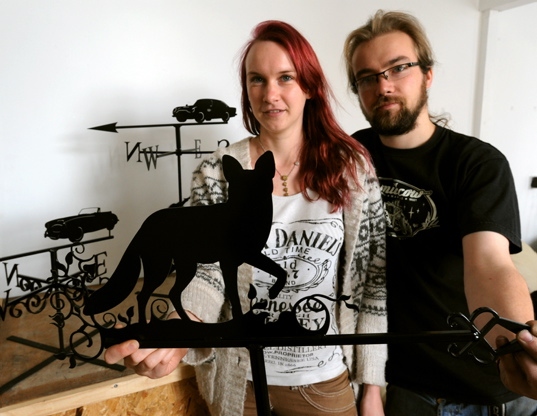 ALL our own work . . . Jenny and Richard with their distinctive Black Fox signature work
TWO friends with a shared loved of welding have established a creative metalwork business in Failsworth.

Jenny Reed, from Sale, and Richard Phizaclea, from Blackley, have invested more than £10,000 to set up Black Fox Metalcraft in a small showroom and workshop in Samuel Street.

Their range includes weather vanes, house names and plates, business signs, window boxes and garden features.

Jenny said: "I have always worked in design, but for the last few years in sets for theatres and shows. I enrolled on a welding course to start my own business."

She posted her ambitions on Facebook and Richard responded with the suggestion they complete the course together.

"I have been welding for a few years without any formal training, so I thought this was a great opportunity to get myself qualified," he explained.

The ambitious pair are now designing products to sell through their website — www.blackfoxmetalcraft.co.uk — and at weekend events and trade fairs.