£71,000 in fines for free NHS treatment claims were wrongly issued
Reporter: Lucy Kenderdine
Date published: 06 October 2016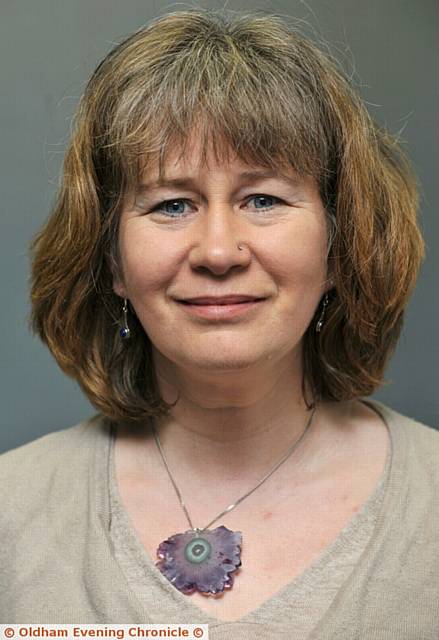 PLANS should have been put in place . . . says Miranda Meadowcroft
HUNDREDS of Oldhamers have been falsely given a fine for accessing free NHS treatment during the roll out of Universal Credit, the Chronicle can reveal today.

A Freedom of Information Request, submitted by the Chronicle to the NHS Business Services Authority (NHSBSA), found that since Universal Credit was launched in Oldham in 2013, 632 people were wrongly sent a penalty charge notice.

The notice stated that the patient had falsely claimed free NHS dental treatment and were required to pay the cost of their treatment as well as a penalty charge ­- set at five times the amount owed, up to a maximum of £100.

However, as NHS forms had not been updated to reflect the introduction of Universal Credit in some areas, residents who were entitled to free treatment under government guidelines, had been told to tick the box stating they were in receipt of income-based Jobseeker's Allowance and show their Universal Credit award notice to support the claim.

But some residents who followed the procedure, which was also stated on the NHS Choices website during Oldham's pilot of the scheme, received letters stating that they falsely claimed free treatment as the system shows they were not claiming Jobseeker's Allowance at the time.

Patients who wished to challenge the penalty notice, which totalled over £71,000 including penalties and treatment costs for the 632 notices over three years, were required to contact the job centre and the NHSBSA, which processes claims for free NHS treatment, in order to provide evidence that they are in receipt of Universal Credit.

Oldham resident Miranda Meadowcroft, who was sent a penalty notice earlier this year after completing a form according to the guidelines when she had a dental check up in 2015, said it was "stressful" and a "ridiculous process".

Miranda, a member of the Oldham Green Party, said: "Receiving a letter saying you owe the NHS money and are liable for a fine can be a very stressful experience for some people, especially if they are struggling on low income and having to juggle a lot of different things.

"It is also very unnecessary and could have been avoided if plans had been put in place and a new form prepared for Universal Credit pilot areas."

Miranda, who was told to pay £94 for the cost of treatment and a penalty, added that she contacted the NHSBSA to rectify the issue and had to visit the job centre to get proof of her claim.

She added: "It was only because I have had training with the Citizens' Advice Bureau that I knew to challenge the notice.

"So many other people could have been panicked and paid it straight away to stop the fine increasing ­- rather than seek help.

"The tone of the letter was very confrontational and accusatory so it would have scared a few people when they opened it."

The FOI details, which date from 2014 until September, this year, show that less than five people paid the fine and penalty, however full refunds have now been made and no complaints from Oldham have been received.

New forms, which do include a box for Universal Credit, have now been created and were sent to dental surgeries and opticians earlier this year.

A spokesman for the NHS Business Services Authority, said: "A suitable period of time was allowed to allow Universal Credit to move from its pilot phase into an established benefit type.

"All government departments did not make permanent changes to their processes during the pilot phases of Universal Credit, as the benefit type during these pilot phases was subject to change.

"Once the pilot phase was complete and Universal Credit became an established benefit type, processes were amended to incorporate Universal Credit.

"Until the pilot phases were complete there was no way to check entitlement to Universal Credit other than to send penalty charge letters to patients, which ask them to provide us with proof of entitlement."

They added that now a Universal Credit box has been added to the form, the NHSBSA is able to tailor their processes to suit this benefit type and penalty charges are not issued for Universal Credit where they have not first checked the patient's entitlement.

They added: "Any penalty charge letter we send to a patient offers them a choice ­- to pay the statutory NHS treatment charge and the penalty for claiming incorrectly or to provide us with evidence that at the time of receiving NHS dental treatment the patient was entitled to claim it for free.

"The penalty charge letter includes three different contact methods for a patient to advise us of any reason why the penalty charge has been wrongly applied ­- by telephone, email and postal."
A Department for Work and Pensions spokesman said:

"Universal Credit is now in every jobcentre across the country and we have made sure local authorities and partner organisations like the NHS had plenty of notice as UC rolled out to update their forms accordingly."

Following changes made to Universal Credit in November, last year, claimants are entitled to help with health costs if they:

* Receive Universal Credit and had no earnings or net earnings of £435 or less during the most recent assessment period.

* Receive Universal Credit which includes an element for a child and/or limited capability for work or limited capability for work related activity, and had no earnings or net earnings of £935 or less during the most recent assessment period.