Me and my shadows...
Reporter: Iram Ramzan
Date published: 11 October 2016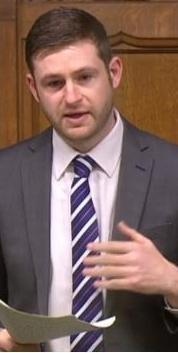 Jim McMahon MP
Oldham West and Royton MP Jim McMahon has been promoted as shadow minister for local government and devolution.

Labour party leader Jeremy Corbyn's latest reshuffle means that all three Oldham MPs are in the shadow cabinet.

Mr McMahon joins Failsworth and Ashton MP Angela Rayner, who is shadow minister for education, and Oldham East and Saddleworth MP Debbie Abrahams, who is shadow secretary for work and pensions.

Mr McMahon's new role has been expanded, having formerly covered local government alone.

He has previously urged the government to make sure towns like Oldham are considered when money and power is devolved to the Greater Manchester and has said that while he believes in devolution, he wants to see a settlement with genuine powers and resources being devolved.

Mr McMahon said: "I've accepted the role as shadow minister for local government and devolution.

"I'm a champion of local government and believe strongly that our councils need a strong voice not just to defend them against Tory cuts, but to offer a positive vision for devolution.

"I've been privileged to work as PPS (parliamentary private secretary) to Tom Watson as deputy leader of the Labour Party.

"His personal support and encouragement has meant a lot to me as a new MP trying to find my feet.

"I want to place on record my thanks to him.

"The next few months and years will be testing for our councils and I want to put into practice my own experience as a councillor of 13 years and as council leader and leader of Labour local government.

Vision

"I want to work with our council leaders and front bench to develop Labour's vision to shift power from the few to the many."

Winning with a landslide victory on December 3, 2015, the former Oldham Council leader was soon appointed as parliamentary private secretary to Tom Watson, deputy leader of the Labour Party.

Mr McMahon rose to become the most senior Labour councillor in the country following his election as leader of the Local Government Association Labour Group representing all Labour councillors in England and Wales.

He secured a place on the ruling executive of the Labour Party, the NEC (National Executive Committee) and held onto both roles until being elected to parliament in 2015.