End of an era for historic church
Reporter: Rosalyn Roden
Date published: 14 October 2016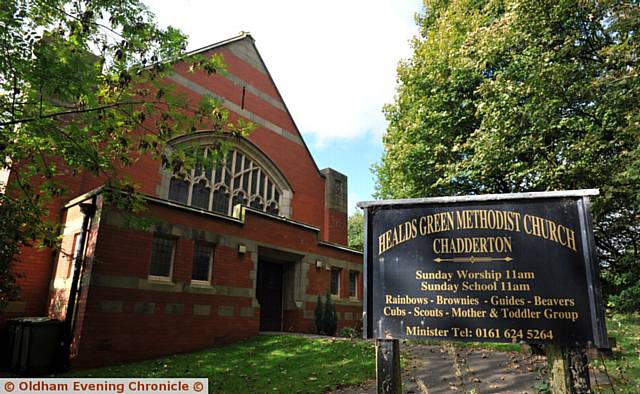 CLOSED for good . . . Healds Green Methodist Church
AN AGE-OLD Methodist church in Healds Green, Chadderton, has closed its doors for good.

Healds Green Methodist Church, which dates back to 1865, has "gone out on a positive."

In years gone by, the site in Healds Green attracted church-goers from across Oldham and beyond to its two morning services.

But the much diminished congregation of 11 were forced to hold their last service on Sunday, September 18.

Member Lisa Howarth, who was married at the church 50 years ago, said: "We are all in quite an emotional state about it. Unfortunately, there were not enough people in the Methodist tradition to keep it going.

"The church is in a lovely little pocket in Chadderton but it was out of the way for people to come on a casual basis.

"Like a lot of churches, we were an ageing congregation and the jobs that needed doing, like putting chairs out, became harder and harder.

"These were the main reasons for its sad demise."

Two closing services took place, one for the church family and another open gathering.

A celebration was also held on the last Sunday in August, when more than £2,000 was raised for Muscular Dystrophy UK.

Mrs Howarth added: "We wanted to go out on a positive rather than sinking into oblivion so we had a celebration service.

"There was lots of music to tie in with the church's strong music tradition."

Crowds

In 1918, the Oldham Chronicle reported that 300 residents were unable to enter the doors of the building due to the crowds.

The building's stained-glass windows which depict local silk weavers were admired by residents during Oldham's heritage open days in 2015.

In recent years, alongside other churches in Healds Green, the congregation helped to open an internet cafe and coffee shop.

St Matthews Church Playgroup, who met at the church on Tuesdays and Fridays, held its last session on July 15, relocating to St Matthews Church.

They said on Facebook: "Let's remember all the amazing fun times the children and ourselves have had here."

Mrs Howarth said: "There are members of the church whose grandparents and great-great-grandparents helped to found it. It was a hard and difficult decision and one which we are all still reeling from, but it was a majority decision."