Protestors oppose closure of 'busy' bank
Reporter: Ken Bennett
Date published: 18 October 2016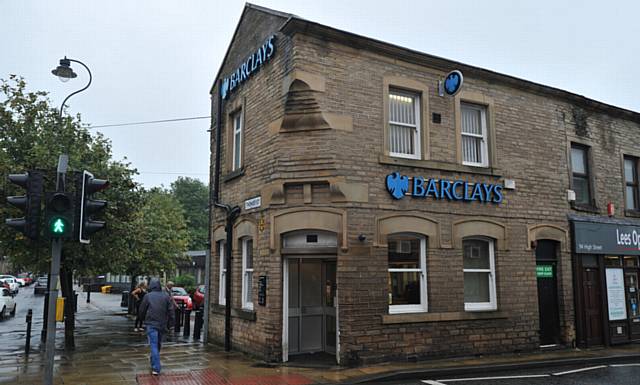 Barclays Bank in Lees is to close..
FRUSTRATED customers staged a protest outside a village bank that is to close a month before Christmas Day.

Carrying placards they registered their protest opposing the closure of Barclays Bank on Lees High Street.

Customers will have to travel a further 2.5 miles to the Oldham town centre branch from November 25.

Oldham and Saddleworth parish councillor, Steve Hewitt, who headed the protest, said: "These big banks are driving us into a cashless society.

"They are implementing contactless cards and online banking and want our money to invest but care little for small businesses who rely on cash to trade their wares.

"They care little for the elderly who have banked with them for many years. They need to know they work for us - not us for them."

Local businessman Bob Marshall from Springhead, said: "This protest should send a message to Barclays who seem insensitive to the fact this is a busy, community bank.

"Why close a branch just before Christmas and remove the ATM at the busiest time of the year?"

Debbie Abrahams, MP for Oldham East and Saddleworth, said: "It shows the strength of feeling in Lees, and the inadequate response from Barclays, that local people now feel they have to start a campaign to preserve this banking lifeline for the area.

"I sympathise with the demonstrators because I too have been extremely disappointed with Barclays responses to me, in which they've consistently failed to address several points of concern I've raised after both meeting with them and writing to them."

However, a senior spokesman for Barclays said: "Alongside our central initiatives, we have a fantastic community investment programme encouraging employees to get involved in the causes we care about. While the physical branch will be closing, our presence in the area will continue through our citizenship work."

And he cited Barclays colleagues as having been involved in the annual fire station car wash with matched fund raising £1,000.