MPs join hub users in fight for Link Centre
Reporter: Iram Ramzan
Date published: 09 November 2016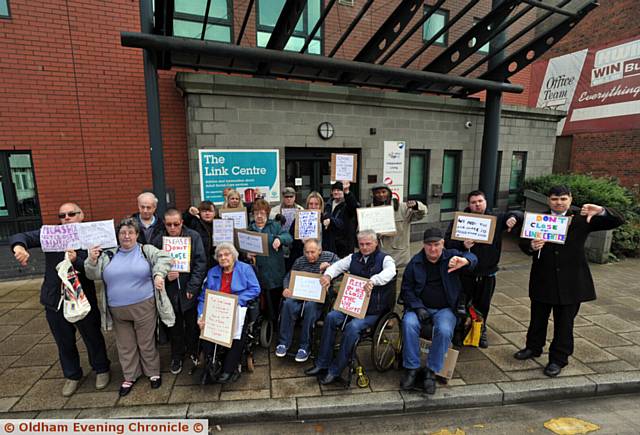 Protest by Link Centre users about its possible closure.
LINK Centre service users have shared their concerns over the proposed closure of the building with Oldham's MPs.

Debbie Abrahams, Jim McMahon and Angela Rayner met with an audience at the Union Street building on Friday to assure them they are doing everything possible to find the best solution for those who use the centre.

More than 2,000 residents have signed a petition objecting to the proposed closure, which comes as Oldham Council looks to save more than £20 million following reductions in funding from central government.

A coalition of ten self-help groups has also been formed to campaign against the plans while a public consultation is ongoing.

There are more than 60 groups currently using the building, including Age UK, First Stop, Oldham Carers and Sight Oldham.

Oldham East and Saddleworth MP Debbie Abrahams, who is also shadow work and pensions secretary, said: "We're not the decision makers in this but we are hopefully influencers in terms of the council's decision.

"Central government cuts are having an impact on us. We need a sustainable solution. I can remember when I was first elected. We were in the same position in 2011.

"Needs are going to increase, not contract. I believe we can do it. We will be working very hard with our colleagues to make sure that this wonderful resource stays here in Oldham."

Oldham West and Royton MP Jim McMahon said: "This is a horrible situation to be in. Most people accept this is a unique building of a unique scale in a town centre location. In the town centre there are no facilities that are comparable.

"We need to resolve it once and for all so it doesn't come back next year. It's got to be a long term decision."

Service users gave suggestions as to how they could raise money and make sure the building is utilised to its full capacity.

Bus services will be resuming their routes along Union Street soon, so that all those who need to use the centre can access it without difficulty.

Angela Rayner, MP for Ashton and Failsworth, added: "We have got some excellent facilities here. Debbie has championed the cause for people with disabilities and needs for some years. Hats off to her.

"This building is a fantastic resource. We need to make sure it is utilised to its full capacity."