Disability equality show hits the road
Reporter: Lucy Kenderdine
Date published: 18 November 2016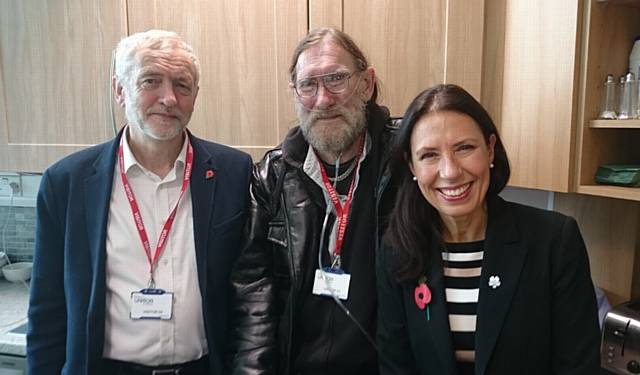 GUEST speaker Paul Rutherford (centre) with Jeremy Corbyn and Debbie Abrahams
OLDHAM East and Saddleworth MP Debbie Abrahams was joined by Labour Party leader Jeremy Corbyn at the launch of a nationwide Disability Equality Roadshow in Manchester.

The Disability Equality Roadshow aims to develop Labour's policies to fight discrimination and promote disability equality.

It will involve deaf and disabled people, their carers and service providers at engagement events across every region of the country, and each nation-state.

Debbie Abrahams, Shadow Secretary of State for Work and Pensions, said: "This engagement process will take the first steps in developing policies which can tackle the structural issues affecting deaf and disabled people and their carers across the UK, as well as the challenges we all face in building a fairer, more equal society.

"It is part of Labour's commitment to transform our social security system, ensuring that, like our NHS, it is there for us all in our time of need."

She continued: "The aim is to engage with stakeholders and hear their views and experiences of social security policy, but also policies on employment and work, education and training, health and care, independent living, access to justice and more.

"Labour is committed to tackling the disadvantage and discrimination facing members of the deaf and disabled community, which is worsening under this Tory Government's destructive austerity policies."

The disability equality campaign launch was also attended by Mr Corbyn, who said: "The Labour Party under my leadership wants to break from this failed austerity project and transform our social security system based on the principles of dignity, independence and support.

"By putting equality at the heart of our policies we can put Britain on the path to becoming an equal society for all."

At the event Debbie was joined by guest speaker and bedroom tax campaigner, Paul Rutherford, with an audience of disabled people and carers, and Labour's Greater Manchester mayoral candidate, Andy Burnham MP.

Earlier this week the Supreme Court ruled in favour of Mr Rutherford's family regarding the discriminatory bedroom tax.

In their ruling the judges agreed that the application of the bedroom tax to Paul's family - they provide overnight care for their disabled grandson, Warren, who needs a separate bedroom - was "manifestly without reason". Paul wanted to show his support for Labour's campaign for disability equality by speaking at the launch.