Business as usual following car blaze
Reporter: Beatriz Ayala
Date published: 24 November 2016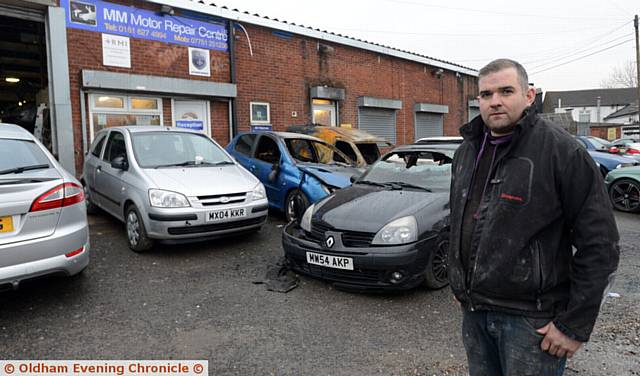 Matthew Dale outside his garage MM Motor Repair Centre, where some cars were torched over the weekend.
A GARAGE owner is reassuring customers that it is business as usual after three cars on his forecourt caught fire on Saturday night.

The vehicles - a black Renault Clio, a blue Peugeot 206 and a blue Vauxhall Astra van - had been parked on an open forecourt of MM Motor Repair Centre in Milne Street, Higginshaw.

The van belonged to the company and the Peugeot to a member of staff, while the Renault belonged to an insurance company.

All three were destroyed.

A white BMW, which belonged to a neighbouring garage and was parked next to the vehicles, also suffered heat damage.

Fire crews had been called out to the scene at 10.30pm and spent an hour tackling the blaze.

Company owner Matthew Dale (35), from Scouthead, said he was devastated when he saw the scene on Monday morning.

He said: "I was absolutely gutted when I arrived at the garage.

"The fire has also upset the neighbours, who have been affected by this mindless violence.

"It could have been a lot worse as we store oxy acetylene inside the garage. I'm so glad the fire didn't spread."

Matthew, who has owned the business for the past 10 years, was contacted by Greater Manchester Police on Sunday to say they would not be investigating the matter.

He said he wanted to reassure customers that the incident will not affect the business, which deals with car repairs and vehicle bodywork.

He said: "Hopefully this never happens again.

"Although incidents like this are worrying, we've built up a good name for ourselves over the years by doing good work."

Greater Manchester Police were contacted but unavailable for comment.