My benefits cut feels personal now
Reporter: Jacob Metcalf
Date published: 28 November 2016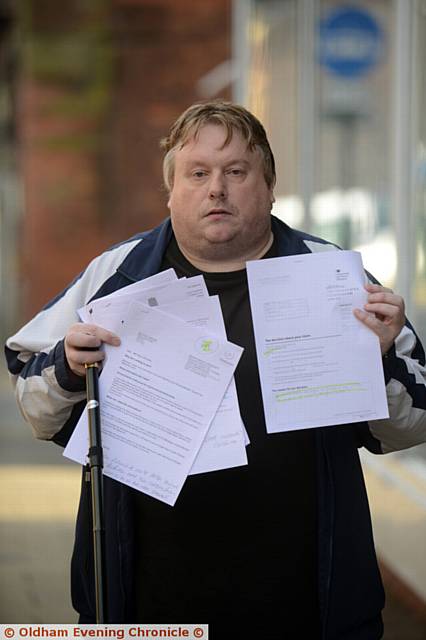 PAUL CRAVEN: Ongoing battle with the DWP
A MAN who has been constantly battling the department of work and pensions (DWP) for his benefits since 2014 has now been told he cannot claim because he doesn't have the right to live in the UK - despite living here since 1974.

Paul Craven, who lives on Lees Road, Oldham arrived in the UK from Australia when he was 10 with his mother and father, both of whom were English.

He began work when he was 16 and from 1986 worked in a bookmakers until 2000 where he went to work in a warehouse of food service provider 3663.

But in 2014 he was diagnosed with osteoarthritis so he had to stop work and began claiming employment and support allowance.

Since then his claim has been stopped three times, the first occasion DWP stopped it because they believed Mr Craven was receiving industrial injury benefit.

Tribunal

However, he wasn't and it took eight months and intervention from MP for Oldham East and Saddleworth Debbie Abrahams and a tribunal to have his claim re-instated.

Six weeks later it was stopped for eight months in error and again Debbie Abrahams had to intervene.

But on his most recent claim Mr Craven put his nationality as Australian rather than English, unaware that it would flag him up in the DWP system as someone who does not have the right to live in the UK and does not have enough national insurance points to receive the benefit.

Mr Craven is now facing a battle to prove he does have right of residency and he has questioned why it is so difficult to rectify the problem when he has contributed to national insurance during his time at work.

He feels the situation is personal and could easily be sorted if DWP searched his work history on their system.

He said: "I came here in 1974 when I was 10 years old and began work in 1980 and worked ever since until 2014.

Contributed

"I have lived here, worked here and paid national insurance. I have contributed to the system. It feels like there is a black mark against my name on the computer.

"It feels very personal now, it feels like because I have continued at them they are getting fed up of me and when I speak to citizens advice there seems to be a lot of people in a similar boat to me."

He added: "Debbie Abrahams has been brilliant and she has gotten the previous two times sorted for me, but it shouldn't have to take the local MP to get involved."

The DWP said after putting his nationality down as Australian, records from the Home Office showed that he had never applied for right to reside in his own right and because of this he was not entitled to benefits.

A DWP spokesman said: "Mr Craven's claim for benefit is assessed on the basis of information he provided about his nationality. If he wishes to discuss the decision further he should contact Jobcentre Plus."

Mr Craven is now collecting the relevant information to prove that he has the right to reside.