DJ legend pens autobiography
Reporter: Rosalyn Roden
Date published: 30 November 2016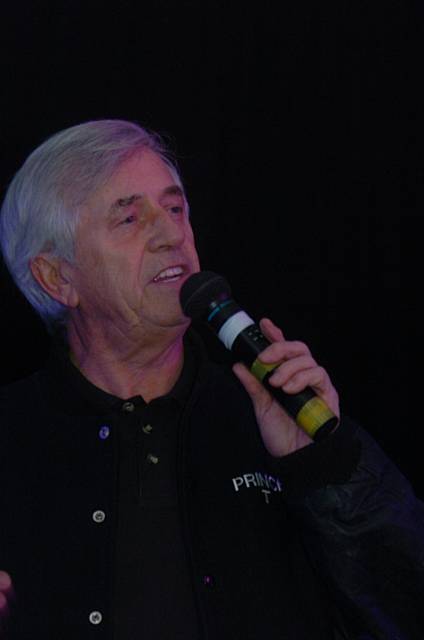 TONY PRINCE
THE double autobiography of Oldham-born DJ Tony Prince is set to be released tomorrow.

Meeting Elvis Presley, singing with Paul McCartney and Ringo Starr and touring with The Osmonds are among the highlights of the 72-year-old's enviable career.

'The Royal Ruler and The Railway DJ' tells Prince's story from both sides of the Iron Curtain - his work as a DJ on Radio Caroline followed by his involvement at Radio Luxembourg after the Russian invasion.

Self-published Prince, who lives with is wife Christine in Bray, said: "Thirty years after these disco appearances, I was invited back to the Czech Republic club in Brno where the original DJ, Jan Sestak, and club owner started to tell me their stories and lives under communism.

"I realised no one had ever brought this story to the west and decided to write about all the mad crazy times we had as DJs on this side of the Iron Curtain and juxtapose Jan and his musician friends' experiences living with the secret police.

"There are two life stories running side by side.

"The revelation then is how damned lucky we were to be born in Oldham rather than Prague."

Born Thomas Whitehead, the Higginshaw boy grew up in a working class home as an only child.

In 1959, he borrowed a pair of cowboy boots from Ringo Starr for a singing contest at Butlins Holiday Camp, where he met a group of musicians from Oldham.

Their meeting led to Prince becoming lead singer of The Jasons who featured at Oldham's venue, The Savoy, on Monday and Thursday evenings.

In 1962, aged 18, Prince introduced the Beatles on stage at the Top Rank Astoria, Oldham - the night they first went to number one.

Prince began writing his autobiography in 1998 while residing in New York and running the American office of his company Disco Mix Club (DMC).

He said: "My life after leaving Oldham was so multi-faceted. As a kid living on St Stephen's Street, I had a picture of Elvis Presley on my wall. Eventually he had one of me on his wall in Gracelands.

"There are so many highlights and I hope I have captured them all in the book."

Tony's book will be available to buy from the Chronicle's Promotions Department from next week onwards.