Mum Jane powers to weightlifting glory
Reporter: Rosalyn Roden
Date published: 02 December 2016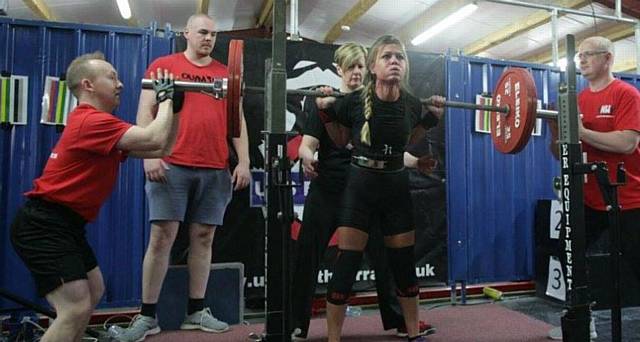 OLDHAM coach Lee Moran expects Jane Girdlestone (41) to compete on the world stage
A MUM-OF-TWO stole the limelight winning a regional weightlifting competition and breaking records.

Jane Girdlestone (41) who trains in Oldham with coach Lee Moran said she had never set foot in a gym before two years ago.

But just over a week ago, she overcame nerves and impressed judges at the North-West Powerlifting Championships, part of the Great British Powerlifting Federation, taking first place.

The part-time post office employee, who has two trophies and three records in the sport, said: "I came first which was absolutely amazing.

"This was the least thing I expected to do.

"I have always done a lot of cardio and swimming but I only got into training when some of my friends told me about their diet plans at an Oldham gym."

Jane began training at Freedomstrength, in Turf Pit Lane, around two years ago, working on squats, bench and deadlifts in her first 12 months.

Ex-royal marine commando Lee encouraged her to begin using weights to work up muscle and get the results she was looking for.

Jane, from Middleton, said: "The last thing I wanted was to get big and bulky.

"He kept increasing the weights over the weeks and before I knew it I was doing more than some of the boys in the group.

"I seemed to be quite natural at it.

"Then he suggested I compete in the North-West."

In July, at her first competition in Cumbria, Jane broke a deadlifting record for her age and weight class, coming first in her category.

Strength

She won best overall lifter of the day at the Wirral-based North-West competition on November 20 as well as breaking the North-West squat and deadlift record, squatting 125kg and deadlifting 135kg.

She unofficially broke the masters 1 British record of 116kg and came away with a Wilks score, calculated by strength per kg of bodyweight, of 398.2, which is the second highest in Britain for the masters 1 category.

Lee said: "When Jane started she just wanted to be healthier and stronger as she knew this would benefit her in later life.

"She never thought for one minute she would be breaking long-standing British records.

"I see no limit to her ability as it stands and truly believe in 2018 she will be competing on the world stage.

"In just over two years Jane has gone from not even knowing what a barbell was to lifting equal to ladies who are world level athletes."

Jane is now preparing for the British championships on March 11.