Councillors vow to fight bank closure
Reporter: Ken Bennett
Date published: 07 December 2016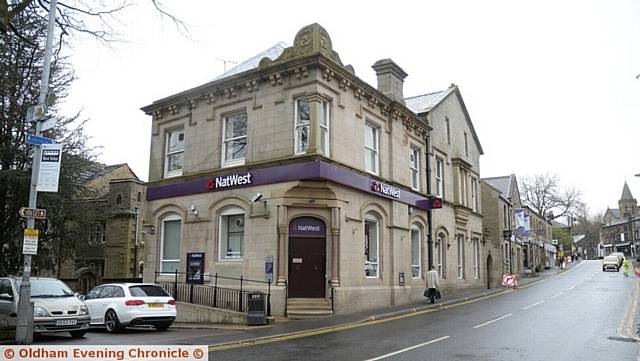 Natwest Bank, Uppermill
AN ANGRY community has promised to battle the shock closure of its last remaining bank.

The Saddleworth and Lees District Partnership is preparing to combat NatWest's announcement that their Uppermill High Street branch is to close next year.

Bank bosses say they made the decision in the wake of studying figures which show increasing numbers of people are banking online.

The announcement has come as a double whammy to Saddleworth and its population of more than 25,000 as it follows the closure of Barclays branch at Lees last month.

And if NatWest close their doors in Uppermill on June 27 as scheduled, residents will have to travel nearly five miles to bank in Oldham town centre.

Cajoled

But now district partnership chairman, Councillor Adrian Alexander, has promised councillors will come together with a cross-party demonstration against the decision.

"We are determined to come up with a constructive plan to open discussions with the bank," he said. "We are not going to be pushed or cajoled into anything.

"There are big issues here involving businesses and the elderly which require careful discussion and consideration."

And reacting to the news of the closure, Debbie Abrahams, MP for Oldham East and Saddleworth, said: "Hot on the heels of Barclays deciding to desert their customers in Lees, NatWest's announcement is yet another blow for Saddleworth residents who need convenient access to a local bank.

"NatWest's own statistics show 40 per cent of their customers at the branch are not yet using digital banking technology. These are likely to be the people who need access to a local branch the most.

Tarnished

"The global financial crash of 2008 did little to improve the reputation of the banking industry and this latest development only tarnishes their reputations even more on a local level.

"I have written to NatWest, urging them to think again and reverse their decision to close the Uppermill branch."

Parish councillor Jamie Curley told district partnership colleagues at a meeting: "By going into a branch of a bank you get the personal experience and help.

"We would lose that facility completely for Saddleworth residents."

Businesses in Uppermill have already expressed concerns over the loss of the bank citing problems including the collection of large amounts of change and making cash deposits.

"Travelling into Oldham to carry out transactions in just not a satisfactory option," said one.

A local, who did want to be named, told the Chronicle: "A manned bank kiosk in a large store would reduce the concern of expensive Uppermill overheads and allow easy, convenient access for customers."

Others have taken to social networking websites, hinting changing banks completely.

There was frustration earlier in the year when NatWest closed the branch on Wednesday ­- Uppermill's market day and arguably the busiest.

It also opened 30 minutes later on Monday, Tuesday, Thursday and Friday with new opening times from 9.30am to 4.30pm.

Saddleworth parish council chairman Pam Byrne is already demanding a full explanation from bank chiefs.

She said: "Where is the consideration for their customers?

"I am prepared to lead the charge to get a full explanation."

However, Conservative Councillor Graham Sheldon said: "We can try our best to oppose this but I still think the bank will close."