Sport for social harmony
Reporter: Richard Hooton
Date published: 08 December 2016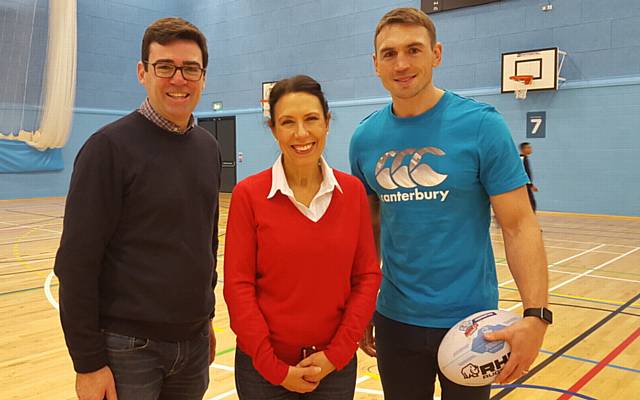 SPORTS for All . . . Andy Burnham, Debbie Abrahams and Kevin Sinfield
A NEW initiative is aiming to unite communities through sport.

Oldham East and Saddleworth MP Debbie Abrahams launched Sports for All at Oldham Leisure Centre with the help of rugby league legend Kevin Sinfield and Labour's candidate for mayor of Greater Manchester, Andy Burnham.

Other local people working with Mrs Abrahams on the scheme include former Oldham and Great Britain rugby league international Terry Flanagan and Councillor Shaid Mushtaq.

Mrs Abrahams has partnered with the Rugby Football League who are working to widen participation in rugby league in the Oldham area.

Resilience

She said: "I've launched my Sports for All campaign because sport can play a key role in building social cohesion in communities as well as developing resilience and teamwork skills in young people. I'm particularly looking at widening participation for young people in rugby league and cricket, both of which have great traditions in Oldham and Saddleworth, and we're targeting youngsters from all backgrounds and of all abilities."

Kevin Sinfield enjoyed his coaching session at the leisure centre, which involved youngsters and their families playing tag rugby. He said: "It's really important young people have the opportunity to enjoy sport and socialise with people from all communities in their area."